Order of Joel C. Rosenberg Books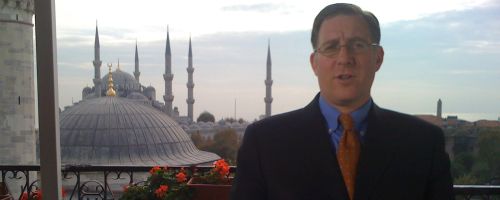 Joel C. Rosenberg is an American author who writes conservative political thrillers. He is an Evangelical Christian who writes about how terrorism affects Bible Prophecy. He is also the founder of The Joshua Fund, which gives money to those who have been hurt by terrorism in Israel, Palestine and Lebanon. He is not to be confused with sci-fi/fantasy author Joel Rosenberg.
Rosenberg's first novel, The Last Jihad, was published in 2002, but written months before the 9/11 attacks. Below is the order of when Joel C. Rosenberg's were originally published:
Publication Order of The Last Jihad Books
Publication Order of David Shirazi Books
Publication Order of J. B. Collins Books
Publication Order of Marcus Ryker Books
Publication Order of Standalone Novels
Publication Order of Non-Fiction Books
Note: The Invested Life was co-written with T.E. Koshy.
If You Like Joel C. Rosenberg Books, You'll Love…
Joel C. Rosenberg Synopses: The Auschwitz Escape is a standalone novel by Joel C. Rosenberg. An awful cloud of darkness has hit Jacob Weisz's beloved Germany. Adolf Hitler's Nazi regime has taken power and now has Germany by the throat. All non-Aryans – especially Jewish people like Jacob and his family – are treated like dogs.
When tragedy strikes during one terrible night of violence, Jacob flees and joins rebel forces working to undermine the regime. But after a raid goes wrong, Jacob finds himself in a horrible nightmare – trapped in a packed train to the Auschwitz death camp.
As World War II ensues and Hitler begins executing his "final solution" to systematically and ruthlessly exterminate the Jewish people, Jacob must rely on his wits and a God he's unsure about to somehow get out of Auschwitz and alert the world to the Nazi's atrocities before Fascism overtakes all of Europe. The fate of millions hangs in the balance.
The Twelfth Imam is the first David Shirazi novel by Joel C. Rosenberg. Tensions are building in the Middle East. Iran's president vows to annihilate the United States and Israel. Israel's prime minister says someone must hit Iran's nuclear sites soon. The U.S. president warns against a preemptive strike on Iran's nuclear facilities and prefers to find peace through negotiations.
Meanwhile, rumors are going around throughout the region of a mysterious religious cleric claiming to be the Islamic messiah known as the Mahdi or the Twelfth Imam. Tales of his miracles, healings, signs, and wonders are spreading like wildfire.
CIA operative David Shirazi is the right man for the job. He is recruited and sent into Tehran with one objective: use all means necessary to disrupt Iran's nuclear weapons program, without leaving American fingerprints and without setting off an apocalyptic new war.
A native Farsi speaker whose family escaped from Iran in 1979, he couldn't be better prepared for the mission. But none of his training has prepared Shirazi for what will happen next.
The Third Target by Joel C. Rosenberg is the first J.B. Collins novel.
When New York Times foreign correspondent J.B. Collins hears whispers that an al-Qaeda splinter cell – ISIS – has captured a cache of chemical weapons inside Syria, he knows he must follow this story immediately.
Does the jihadist faction really possess weapons of mass destruction? And who is the intended target? The U.S.? Israel? Or someone else?
With tensions already high, the impending visit of the U.S. president to the region could end up setting off an explosion of gigantic proportions. Knowing that terrorist forces are already attempting to bring down two Arab governments in the region – Iraq and Syria – can Collins uncover the truth before time runs out? Or will the terrorists succeed in setting their sights on the third target and achieving genocide?
Order of Books » Authors » Order of Joel C. Rosenberg Books
18 Responses to "Order of Joel C. Rosenberg Books"