Order of John Dickson Carr Books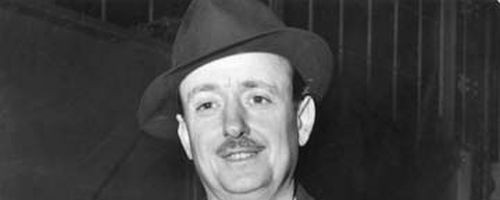 John Dickson Carr (1906-1977) was an American author of detective fiction and mystery novels. He also wrote as Carter Dickson. Carr is the creator of the Dr. Gideon Fell and the Sir Henry Merrivale series. He is considered one of the greatest Golden Age mystery writers, where his detectives would solve seemingly impossible mysteries. Carr spent a number of years living in England, and is often compared to British mystery authors. Most of his novels had English settings, such as country villages and estates, and featured English characters. Carr won two Edgar Awards and the Grand Master Award from the Mystery Writers of America.
John Dickson Carr made his debut as a published novelist in 1930 with the novel It Walks by Night. Below is a list of John Dickson Carr's books in order of when they were originally released:
Publication Order of Department D-3 Books
Publication Order of Dr. Gideon Fell Books
Publication Order of Henri Bencolin Books
Publication Order of Sir Henry Merrivale Books
(as Carter Dickson)
Publication Order of Standalone Novels
Publication Order of Short Story Collections
Publication Order of Non-Fiction Books
Publication Order of Alfred Hitchcock Presents Books
(with Robert Arthur,with Donald E Westlake, Ellis Peters, Dorothy L Sayers, Robert Bloch, , , Shirley Jackson, Jack Ritchie, Stanley Ellin, Ray Bradbury, , Richard Matheson, , , F. Scott Fitzgerald, Michael Gilbert, Roald Dahl, , , , , , , , as Carter Dickson, , , , Julian May, , , , , , , , , , , , , , James Francis Dwyer, Richard Stark, Margot Bennett)
Publication Order of John Dickson Carr Omnibus Books
Publication Order of British Library Crime Classics Books
Publication Order of Anthologies
Notes: The Waxworks Murder was also titled The Corpse in the Waxworks. The Three Coffins was also published as The Hollow Man. The Black Spectacles was alternately titled The Problem of the Green Capsule.
The Magic Lantern Murders is also known as The Punch and Judy Murders. The Peacock Feather Murders was also released as The Ten Teacups. The Judas Window was also published under the title of The Crossbow Murder. Nine and Death Makes Ten was also published as Murder in the Submarine Zone. Seeing is Believing is also known as Cross of Murder. The Gilded Man was alternately titled Death and the Gilded Man. The Curse of the Bronze Lamp was alternately titled Lord of the Sorcerers.
Drop to His Death was written with John Rhode and alternately titled Fatal Descent. The Exploits of Sherlock Holmes and More Exploits of Sherlock Holmes was written with Adrian Conan Doyle.
If You Like John Dickson Carr Books, You'll Love…
John Dickson Carr Synopses: The Emperor's Snuff Box is a standalone title by John Dickson Carr. Beside the dead body of Sir Maurice Lawes are the shattered fragments of a snuff-box that once belonged to Napoleon. These fragments tell a tale, or rather two tales, one true and one false. Now, an English expert in criminology forces the evidence to tell the truth about what happened and to point out the real murderer.
In Captain Cut-Throat by John Dickson Carr, when someone begins a killing spree on Napoleon's personal sentries, captured British agent Alan Hepburn finds himself forced not only to help with the investigation but also to match wits with the Emperor and his chief of police, the wily Fouche.
Order of Books » Authors » Order of John Dickson Carr Books