Order of John Gwynne Books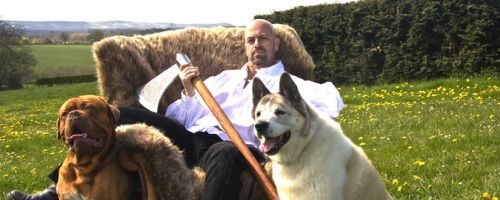 John Gwynne is a British author of epic fantasy novels. He writes the Faithful and the Fallen series. Born in Singapore while his father was stationed with the RAF, Gwynne would move around every few years during childhood. As an adult, he's packed soap for a living, waitered at a French restaurant in Canada, played double bass in a rock band and lectured at Brighton University. Having always told his children bedtime stories, he began to start writing them, and so a career in writing began. John lives with his wife and four children in East Sussex.
John Gwynne began his career as a published author in 2012 with the novel Malice. Below is a list of John Gwynne's books in order of when they were first released:
Publication Order of The Faithful and the Fallen Books
Publication Order of Blood & Bone Books
Publication Order of The Bloodsworn Saga Books
Publication Order of Tales of the Apt Books
(with Juliet E. McKenna, Adrian Tchaikovsky, Frances Hardinge)
Publication Order of Unfettered Books
Publication Order of Anthologies
Note: The Scent of Tears also has stories by other authors.
If You Like John Gwynne Books, You'll Love…
John Gwynne Synopsis: Malice is the first book in John Gwynne's Faithful and the Fallen series. The world is broken… Corban wants nothing more than to be a warrior under King Brenin's rule – to protect and serve. But that day will come all too soon. And the price he pays will be in blood. Evnis has sacrificed all too much. But the power he desires will soon be in his grasp. And nothing will stop him once he has started on his path. Veradis is the newest member of the warband for the High Prince, Nathair. He is one of the most skilled swordsman to come out of his homeland, but he cannot escape his older brother's shadow. Nathair has ideas – and a lot of plans. Many of them don't involve his father, the High King Aquilus. Nor does he agree with his father's idea to summon his fellow kings to council. The Banished Lands has a violent past where armies of men and giants clashed in battle, but now giants are seen, the stones weep blood and giant wyrms are stirring. Those who can still read the signs see a threat far greater than the ancient wars. For if the Black Sun gains ascendancy, mankind's hopes and dreams will fall to dust…
Order of Books » Authors » Order of John Gwynne Books