Order of Jules Verne Books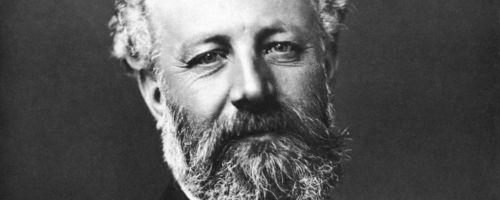 Jules Verne (1828-1905) was a French author of adventure and science fiction novels, in addition to being a poet and a playwright. He is best known for his Voyages Extraordinaires series, which makes up the vast majority of his work. His work is not meant to be science fiction, although he is considered to be one of the foremost pioneers of the genre. Although he was not a scientist or an inventor, he wrote about space, air and underwater travel before such the forms of transportation were out of their infancies (or in the case of space travel, created).
Jules Verne became a published novelist in 1863 with the novel Five Weeks in a Balloon. Below is a list of Jules Verne's books in order of when they were first released:
Publication Order of Voyages Extraordinaires Books
Publication Order of Children Of Captain Grant Books
Publication Order of Barsac Mission Books
Publication Order of Adventures of Captain Hatteras Books
Publication Order of Captain Nemo Books
Publication Order of Second Fatherland Books
Publication Order of Steam House Books
Publication Order of Two Years Holiday Books
Publication Order of Standalone Novels
Publication Order of Short Stories/Novellas
Publication Order of Short Story Collections
Publication Order of Non-Fiction Books
Notes: Five Weeks in a Balloon was also titled Journeys and Discoveries in Africa by Three Englishmen. A Journey to the Centre of the Earth was also published as A Journey to the Interior of the Earth. In Search of the Castaways was also published under the title The Children of Captain Grant. The Survivors Of The Chancellor was also known as The Chancellor. Hector Servadac was also known as Off on a Comet. The Underground City was also titled Black Indies. Eight Hundred Leagues on The Amazon was also published as The Cryptogram. The Southern Star was also known as The Vanished Diamond. Robur the Conqueror was also known as Clipper of the Clouds. North Against South was also titled Texar's Revenge. Claudius Bombarnac was also known as Adventures of a Special Correspondent. Propeller Island was also titled Floating Island. Facing the Flag was also known as For the Flag. The Aerial Village was also known as The Village in the Treetops. The Sphinx of the Ice was also published as An Antarctic Mystery. The Chase of the Golden Meteor was also titled The Hunt for the Meteor. The Lighthouse at the End of the World was written with Michel Verne.
If You Like Jules Verne Books, You'll Love…
Jules Verne Synopsis: In The Kip Brothers by Jules Verne, Karl and Pieter Kip are castaways on a deserted island when they are rescued by the ship James Cook. After stopping a mutiny aboard the brig, they end up being accused of the murder of the ship's captain.
Shop Worldwide: Amazon.com | Amazon.co.uk | Amazon.ca
Order of Books » Authors » Order of Jules Verne Books