Order of Kareem Abdul-Jabbar Books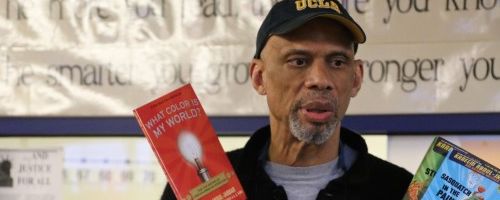 Kareem Abdul-Jabbar is one of the greatest basketball players of all-time. He is a six-time NBA MVP, a six-time NBA champion, and a 19-time NBA All-Star. Most people know this, but what they don't know is that Kareem is also a prolific author. In addition to numerous books about his career and jazz, he is also the author of the Mycroft Holmes series of books.
Kareem has a great love for mysteries as seen with his Mycroft Holmes series. He was also a staff writer on the television show Veronica Mars when it came back to air on Hulu.
Publication Order of Mycroft Books
Publication Order of Streetball Crew Books
(with Raymond Obstfeld)
Publication Order of Non-Fiction Books
| | | |
| --- | --- | --- |
| Giant Steps: The Autobiography of Kareem Abdul-Jabbar | (1983) | |
| Black Profiles in Courage | (1996) | |
| A Season on the Reservation: My Soujourn With the White Mountain Apaches | (2000) | |
| Brothers In Arms: The Epic Story of the 761St Tank Battalion, WWII's Forgotten Heroes | (2004) | |
| On the Shoulders of Giants: My Journey Through the Harlem Renaissance | (2007) | |
| What Color Is My World?: The Lost History of African-American Inventors | (2012) | |
| Writings on the Wall: Searching for a New Equality Beyond Black and White | (2016) | |
| Coach Wooden and Me: Our 50-Year Friendship On and Off the Court | (2017) | |
| Becoming Kareem: Growing Up On and Off the Court | (2017) | |
If You Like Kareem Abdul-Jabbar Books, You'll Love…
Mycroft Holmes is the first book in the Mycroft Holmes series. The book sees Mycroft Holmes fresh out of Cambridge University and he's already making a name for himself working for the Secretary of State for War. Mycroft has ties to the island of Trinidad as his fiancee was raised there and his best friend, Cyrus, was born there. When Cyrus starts to get troubling reports from home, reports that include disappearances and spirits enticing children to their deaths, Georgiana heads home. Mycroft convinces his friend that they should follow her and do what they can to figure out just what is happening.
The second book in the series is called Mycroft and Sherlock. There are some gruesome murders in London that are dominating the headlines, none of which is Mycroft's business, but his brother Sherlock has a fascination for this tip of thing and that is something that Mycroft does not like. Mycroft convinces his brother to take a position as a tutor at his friend's orphanage. However, this puts Sherlock right in the heart of the murders where he begins to investigate. While Mycroft is on a mission that will send him in the same direction.
Order of Books » Authors » Order of Kareem Abdul-Jabbar Books