Order of Kaylee Ryan Books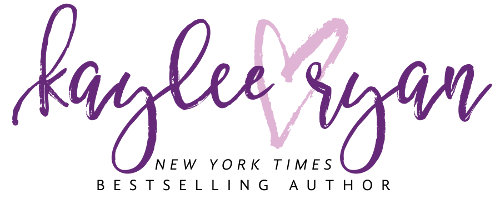 Kaylee Ryan is an author of romance novels. She is a New York Times and USA Today bestselling author. She writes the Out of Reach, Riggins Brothers, Unexpected Arrivals, and other series. She has written more than fifty novels, and is an expert at writing Happily Ever Afters that are full of heart. When not writing, Kaylee is either reading or spending time with her family in Ohio.
Kaylee Ryan made her debut as a novelist in 2013 with the novel Anywhere With You. Below is a list of Kaylee Ryan's books in order of when they were originally published:
Publication Order of Entangled Hearts Duet Books
Publication Order of Fair Lakes Books
(with Lacey Black)
Publication Order of Kincaid Brothers Books
Publication Order of Out of Reach Books
Publication Order of Riggins Brothers Books
Publication Order of Soul Serenade Books
Publication Order of Southern Heart Books
Publication Order of Tempting Tatum Books
Publication Order of Unexpected Arrivals Books
Publication Order of With You Books
Publication Order of Standalone Novels
Publication Order of Short Stories/Novellas
Publication Order of All American Boy Books
Publication Order of Cocky Hero Club Books
Publication Order of Coming Home Books
Publication Order of Mason Creek Books
Publication Order of Anthologies
If You Like Kaylee Ryan Books, You'll Love…
Kaylee Ryan Reviews: Amazing! I loved Agony because it had so much angst! From the beginning to the end, this book tore me apart! Throughout the entirety of the book, I had the impression that Reese's heart was breaking just as much as mine.
I adore Cooper and truly sympathize with him coming to a significant realization too late; however, a portion of me has no sympathy for him for not fighting for what he wanted from the beginning.
She kept me glued to my e-reader for hours, as Kaylee Ryan does. Knowing that I had to go to work the next day, I stayed up way past the time I should have. I picked up this book whenever I had free time and read a few pages, spending the entire afternoon of my half-day off reading it.
As I was on the edge of my seat asking myself, "Will they or won't they?" and as I am in agony now waiting to see how this story ends, "Agony" is definitely the right title for this book!
Lastly, congratulations to Kaylee! -Carly
I love Kaylee Ryan! She writes amazing series that I love to read over and over again and want to never stop reading. I adored the story of Brooks and Palmer in Stay Over. I adore the nine Kincaid brothers because of how close they are. I'm looking forward to more! -Margot
What happens when you don't focus on your marriage? Indeed, that is precisely exact thing Harrison and Winnie realize while they're marking their legal documents. They still love each other, but they don't know how to get what they gave to each other back. They end up sleeping together one final time as their feelings are running high, and that's where It's Not Over by Kaylee Ryan begins. At times, Harrison is almost too perfect, and Winnie just follows along. High on sweetness, low on angst. -Juliette
Beyond the Bases by Kaylee Ryan was such a sweet story. Easton meets Larissa and is immediately drawn to her, but she is hesitant, which we learn is due to the fact that she is a single parent. Easton doesn't let that stop him from trying to convince her that Larissa and her daughter Paisley are the ones.
I thoroughly enjoyed the book, but I love conflict. When I read about the suffering that the two characters are going through, my heart breaks. That's simply because I enjoy watching them suffer through heartbreak on their own before realizing that the other person is the one for them. After what happened, I would have loved to see Larissa try to move on, only to realize that Easton is all she wants. Nevertheless, I comprehend why she quickly realizes that being with him is the right thing to do.
This definitely earns Kaylee a triple (pun intended) praise. She takes readers on a journey of finding love after heartbreak and unconventionally starting a family. Kaylee perfectly portrayed Easton's and Larissa's love, which is one of those relationships that most people can only imagine happening. This is the book for you if you're looking for a love story with only a few bad guys, a happy ending, and four epilogues. -Tanea
Order of Books » Authors » Order of Kaylee Ryan Books