Order of Kevin Emerson Books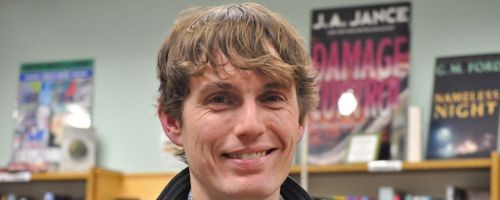 Kevin Emerson is an American author of children's and young adult novels. He writes the Oliver Nocturne series. Kevin grew up in Cheshire, Connecticut and attended Colby College. Prior to writing, he had careers as a banker, camp counselor and school teacher. He also volunteers at 826 Seattle, a chapter of 826 National, a non-profit writing and tutoring for youths 6-18 founded by author Dave Eggers.
Kevin Emerson made his debut as an author in 2008, publishing both The Vampire's Photograph and Carlos is Gonna Get It that year. Below is a list of Kevin Emerson's books in order of when they were originally released:
Publication Order of Oliver Nocturne Books
Publication Order of The Atlanteans Books
Publication Order of Exile Books
Publication Order of Chronicle Of The Dark Star Books
Publication Order of Lost In Space Books
Publication Order of Standalone Novels
If You Like Kevin Emerson Books, You'll Love…
Kevin Emerson Synopses: Carlos is Gonna Get It is a standalone novel by Kevin Emerson. Carlos is just weird. He walks talking about aliens in this annoying shaky voice, he acts up in class and gets everyone else in trouble, and when he starts scratching himself? He's completely disgusting. Trina and her friends have had enough, and they've come up with a great way to "get" Carlos. But when Trina is assigned to work with Carlos on a class project, she discovers both his sweetness and the whole story of his problems. Will she be able to go through with the prank? And what will happen to Carlos when – if – he gets it?
The Vampire's Photograph is the first Oliver Nocturne novel by Kevin Emerson. Oliver Nocturne knows that he's different from the other vampires around him – his goreloving schoolmates, his loving parents, and his obnoxious older brother. When Emalie, an artistic and defiant human girl with a questionable-at-best past, unknowingly takes a picture of Oliver, it sets them both off on a path to find out just how he became a vampire… and why.
The Sunlight Slayings by Kevin Emerson is book 2 in the Oliver Nocturne series. Oliver is reunited with Dean, who has returned as a zombie and has some information on the current major issue in the vampire community – why vampire children are being turned to dust. Oliver and Dean reunite with Emalie and in the process of cracking the mystery, encounter the Fallen Brotherhood, a group of humans fighting against the vampires. And the Brotherhood has some news for Oliver…
Order of Books » Authors » Order of Kevin Emerson Books