Order of Kevin Sands Books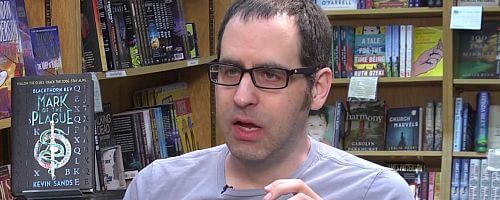 Kevin Sands is a Canadian author best known for writing the Blackthorn Key series of books. The series began in 2015 with the release of The Blackthorn Key. Sands is also the author of the Thieves of Shadow series which began with Children of the Fox in 2021.
Kevin is from Ontario, Canada. He attended university and graduated with two degrees in theoretical physics. He worked as a researcher for a time, but also spent time as a teacher and professional poker player.
Publication Order of The Blackthorn Key Books
| | | |
| --- | --- | --- |
| The Blackthorn Key | (2015) | |
| Mark of the Plague | (2016) | |
| The Assassin's Curse | (2017) | |
| Call of the Wraith | (2018) | |
| The Traitor's Blade | (2021) | |
| The Raven's Revenge | (2023) | |
Publication Order of Thieves of Shadow Books
If You Like Kevin Sands Books, You'll Love…
The Blackthorn Key is the first book in the series of the same name. Christopher Rowe is working as an apprentice under Master Benedict Blackthorn learning how to solve complex codes and puzzles and creating powerful medicines, potions, and weapons. He's happy in his work until he gets a warning that says "Tell no one what I've given you." Now, a mysterious cult is preying on London's apothecaries and piling up bodies. The murders are getting closer to Blackthorn's shop which leads to Christopher using all of the skills that he has learned to discover the key to a terrible secret that could end the world.
Children of the Fox is the first book in the Thieves of Shadow series. This series introduces us to a group of kids brought together to pull of a difficult crime that numerous adults have failed at. The five young criminals are hired to steal a treasure from the most powerful sorcerer around. They each have their own skills, but they'll need to learn to trust each other and rely on one another to get the job done. The odds are against these kids getting the job done and they'll need to band together to pull off the legendary heist.
Order of Books » Authors »