Order of Kimberly Brubaker Bradley Books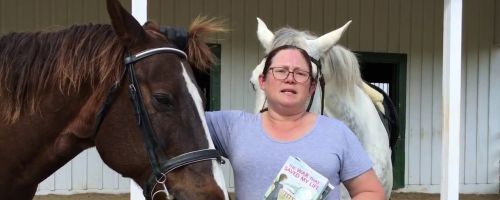 Kimberly Brubaker Bradley is an American author of children's books and young adult fiction. She is the bestselling author of The War That Saved Me Life, which hit number one on the New York Times Bestseller List.
Brubaker Bradley grew up loving reading and her school librarian, but never saw herself as the type of person who could become an author. She was interested in chemistry and majored in it in college, before heading to medical school alongside her husband/high school sweetheart. She only made it six weeks before realizing that she really wanted to pursue writing as a career. She worked as a research chemist and wrote at nights while her husband and her started a family. When she was pregnant with her second child, she received a contract for her first book to be published.
Publication Order of War Books
Publication Order of Standalone Novels
Publication Order of Picture Books
Publication Order of Let's-Read-and-Find-Out Science, Stage 1 Books
Publication Order of Let's-Read-and-Find-Out Science, Stage 2 Books
Publication Order of She Persisted Books
If You Like Kimberly Brubaker Bradley Books, You'll Love…
One of Brubaker Bradley's most popular books is The War That Saved My Life. This book is set during World War II and follows young Ada who has never left her family's apartment. Her brother Jamie is sent to London to escape the war and Ada thinks it is her time to get out, and sneaks away from their cruel mother to join him. The kids find Susan Smith who takes them in and they begin to form a new a family, but can they possibly stay together through the war?
Jefferson's Sons: A Founding Father's Secret Children is another great book by Brubaker Bradley. This one tells a piece of the darker side of American history as it covers some of Thomas Jefferson's illegitimate children who were born to a slave mother. The invisible offspring had a rough upbringing and really showed the contradiction between slavery and the freedom that the young American country prided itself on.
Order of Books » Authors » Order of Kimberly Brubaker Bradley Books