Order of Kingsley Amis Books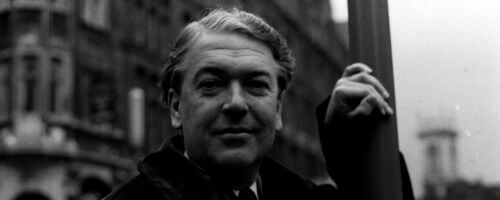 Kingsley Amis was a prolific author, poet, and critic who was considered to be one of the finest comic novelist of the twentieth century. The Times listed him ninth in their last of the 50 Greatest British Writers since 1945.
Amis went to the City of London School as well as St. John's college, Oxford. His study was interrupted by World War II, where he served as a lieutenant in the Royal Corps of Signals. He is best known for his first novel, Lucky Jim, and its classic anti-hero Jim Dixon. Amis died in October of 1995 at the age of 73.
Publication Order of Jim Dixon Books
Publication Order of Patrick Standish and Jenny Bunn Books
Publication Order of Spectrum Books
(with Robert Conquest)
Publication Order of James Bond (Extended) Books
Publication Order of Standalone Novels
Publication Order of Short Story Collections
Publication Order of Non-Fiction Books
Publication Order of Anthologies
If You Like Kingsley Amis Books, You'll Love…
The novel that Amis is best known for is Lucky Jim. This book follows Jim Dixon as a hapless medieval professor at a university. His story of trying to hold onto this job that he's not good at and pursuing the girlfriend of a senior professor's son make up the plot, but they often take a backseat to the pure humor and crazy situations that Jim puts himself in throughout the novel. Despite being published over sixty years ago, the humor in this remains hilarious and the satire is scathing. Jim is a politically incorrect character and very much of his time.
Another classic Amis novel is Girl, 20. This one sees Amis turn his eye to the flower power era of the 1960s. Sir Roy Vandervane is a composer and conductor, a member of the high society, who falls in love with the 60s: bell bottoms, electric guitars, and protest. Vandervane has a taste for younger women and his target in this one is a highborn hippie named Sylvie who isn't quite 20. The story is told by Douglas Yandell, a music critic and Roy's much younger drinking buddy. This book is Amis at his best and most hilarious.
Order of Books » Authors »