Order of Kirsten Weiss Books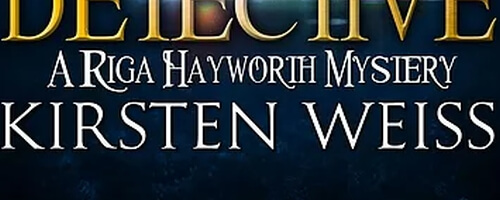 Kirsten Weiss is an American author who writers genre-blending cozy mysteries, supernatural suspense, and steampunk novels. The books are known for the vivid worlds that she creates and the sense of fun and enchantment within them. Her writing is wholly original and her works include the Pie Town and Riga Hayworth series of books.
Kirsten lives in San Mateo, California where she does her writing. When she's not doing that she enjoys red wine and watching re-rus of the Ghost Whisperer. She keeps a mailing list on her website and even sends out original short stories to her readers that sign up.
Publication Order of At Wits' End Cozy Mystery Books
Publication Order of Big Murder Mystery Books
Publication Order of Perfectly Proper Paranormal Museum Books
Publication Order of Pie Town Mystery Books
Publication Order of Riga Hayworth Books
Publication Order of Rocky Bridges Books
Publication Order of Sensibility Grey Books
Publication Order of Tea and Tarot Cozy Mystery Books
Publication Order of The Witches of Doyle Books
Publication Order of Anthologies
If You Like Kirsten Weiss Books, You'll Love…
The Quiche and the Dead is the first book in her Pie Town series. The book follows Valentine Harris who despite a recent broken engagement is excited to open up her own pie show in a coastal California town. The dream of a new business, Pie Town, is now a reality, but that turns into a harsh reality very quickly when a regular customer keeps over at the counter while eating a quiche. The death has a way of killing her business and Val (along with her pie crust maker Charlene) will have to solve this case themselves if they hope to keep Pie Town alive.
The Witches of Doyle is another series by Weiss and the first book is called Bound. The Bonheim triplets live ordinary lives in a small mountain town and their neighbors have no suspicion that the girls are actually witches. When a body is found in of the girls' coffee shop, and a series of bizarre events are happening all over town, the girls realize that they may need to use their powers to figure out just what the heck is going on around here.
Order of Books » Authors » Order of Kirsten Weiss Books