Order of Kurt Vonnegut Books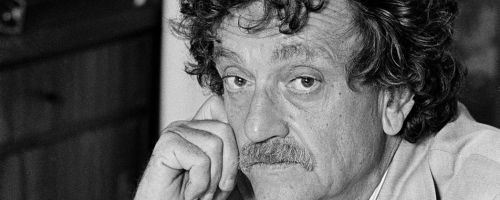 Kurt Vonnegut, Jr. (1922-2007) was an American author known for his science fiction and satire. He was also a critical leftist intellectual. He served in World War II as a soldier and was a POW who received a Purple Heart for what he called a "frostbite." Vonnegut gave his works all letter grades – he gave Cat's Cradle and Slaughterhouse-Five an A+, while he gave A's to The Sirens of Titan, Mother Night, God Bless You, Mr. Rosewater and Jailbird. On the flip side, he gave Happy Birthday, Wanda June and Slapstick D's.
Kurt Vonnegut published his first novel in 1952, which was Player Piano. Below is a list of Kurt Vonnegut's books in order of when they were originally published:
Publication Order of Standalone Novels
Publication Order of Short Stories/Novellas
Publication Order of Short Story Collections
Publication Order of Non-Fiction Books
Publication Order of Children's Books
Publication Order of Graphic Novels
Publication Order of Anthologies
Notes: Player Piano was also published as Utopia-14. The Last Interview is co-authored by Tom McCartan. Like Shaking Hands with God is co-authored by Lee Stringer.
If You Like Kurt Vonnegut Books, You'll Love…
Order of Books » Authors » Order of Kurt Vonnegut Books
3 Responses to "Order of Kurt Vonnegut Books"