Order of Kwei Quartey Books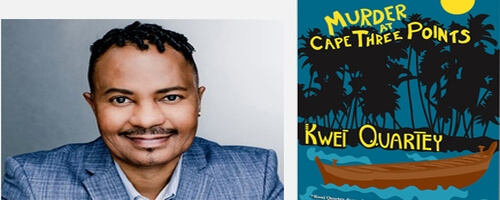 Kwei Quartey is an author out of Ghana best known for writing the Darko Dawson Mystery series of books.
Quarter was born of an African American mother and a Ghanaian father, both of whom were university lecturers. In addition to writing, Dr. Kwei Quartey practices medicine in Southern California and often writes in the mornings before work.
Publication Order of Darko Dawson Books
Publication Order of Emma Djan Investigation Books
Publication Order of Short Stories/Novellas
Publication Order of Anthologies
If You Like Kwei Quartey Books, You'll Love…
The Missing American is the first book in the Emma Djan Investigation. The book focuses on Emma Djan, a private investigator, who gets her first missing persons case. The case will lead her to a dark world of email scams and fetish priests in the world's internet capital of Ghana. Emma once had dreams of rising through the police ranks like her father, but that world came crashing down and now she finds herself working at a private detective agency. Her first case involves an American named Gordon who after losing his wife, meets a young Ghanian widow online that he connects with. He sends her thousands of dollars, to the chagrin of his son Derek, and then decides to visit her- and then he disappears. Derek hires Emma to find him and the two find themselves deep in a world of people willing to kill to protect their secrets.
Another series by Quartey is the Dark Dawson Mystery series. The first book is called Wife of the Gods and introduces us to Detective Inspector Darko Dawson. In this book, Dawson leaves his family in Ghana to head to a shady grove outside the small town of Ketanu to investigate a murder. The locals are not happy with the outside assistance and for good reason, Dawson uncovers a disturbing practice in which teenage girls are offered to fetish priests as trokosi, or Wives of the Gods. As he investigates the young girl's death, he'll uncover secrets that the town doesn't want to uncover and secrets that have a personal connection to him.
Order of Books » Authors »