Order of L. Ron Hubbard Books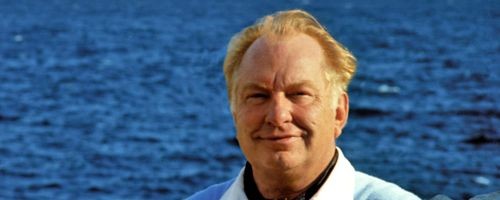 L. Ron Hubbard (1911-1986) was an American author of science fiction, fantasy, adventure, mystery and western stories and novels. However, he is best known for being the founder of Dianetics and Scientology. He is the author of the Mission Earth series and the creator of the Writers of the Future anthology series.
L. Ron Hubbard made his debut as a published author in 1935 with the story Under the Black Ensign. Below is a list of L. Ron Hubbard's books in order of when they were originally published:
Publication Order of Mission Earth Books
Publication Order of Slaves Of Sleep Books
Publication Order of Standalone Novels
Publication Order of Short Story Collections
Publication Order of Writers Of The Future Anthologies
Notes: Return to Tomorrow was also published as To the Stars. Ai! Pedrito! was a short story that was expanded into novel form by Kevin J. Anderson. L. Ron Hubbard Presents Writers of the Future Vols. 1, 4, 15, 16, 17, 19 and The Best of Writers of the Future were edited with Algis Budrys. L. Ron Hubbard Presents Writers of the Future Vols. 9, 10, 11, 12, 14, 28, 29, 30, 31 & 32 were edited with Dave Wolverton (aka David Farland). L. Ron Hubbard Presents Writers of the Future Volume XXVII was edited with K.D. Wentworth.
If You Like L. Ron Hubbard Books, You'll Love…
L. Ron Hubbard Synopses: In Danger in the Dark by L. Ron Hubbard, after Billy Newman strikes gold while mining in the Phillipines, he believes Lady Luck favors him so much that he buys his own South Seas island for a bargain price… or so he thinks. But when the natives fall ill from plague and crops start failing, the tribal chiefs blame Billy for angering the local god Tadamona. Their solution: sacrifice a beautiful young girl before the 75-foot god. Appalled, Billy argues to stop the ritual, but the chiefs demand he cure their ills in just one day or allow the killing to go forward. Desperate, he denies that the deity even exists and dares Tadamona to show himself. Not only does Billy get his wish, he draws a beastly wrath upon the entire island.
In Under the Black Ensign by L. Ron Hubbard, Tom Bristol's had plenty of bad luck in his life. Press-ganged into serving aboard a British vessel, he's felt the cruel captain's lash on his back. Then, freed from his servitude by pirates, his good fortune immediately takes a bad turn… as the pirates accuse him of murder – and leave him to die on a deserted island. Now all he has left are a few drops of water, a gun, and just enough bullets to put himself out of his misery. But Bristol's luck is about to change. Finding himself in the unexpected company of a fiery woman and a crafty crew, he unsheathes his sword, raises a pirate flag of his own, and sets off to make love and war on the open seas.
Order of Books » Authors » Order of L. Ron Hubbard Books