Order of Larry E. Linder Books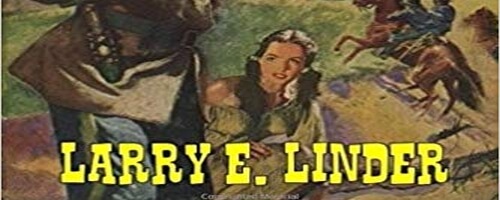 Larry Linder is a lifelong lover of books who made the step into writing them himself in late 2018. He traces back his writing to a dream he had in 2016 that was so vivid that he felt that he had to tell the story of it. He started to write the book and after some feeling out, two years later he signed a contract with a publisher.
Linder's story of becoming a writer is a true underdog story come true and shows what happens when you set out to accomplish a goal. Mr. Linder is a long time subscriber to the Order of Books newsletter and we couldn't be more happy for him.
Publication Order of Standalone Novels
| | | |
| --- | --- | --- |
| The Gunfighter: The Adventures of Austin Lee Henry | (2019) | |
| Halfbreed - Journey to Oregon | (2020) | |
| October's Comet: Does Time Travel Really Exist? | (2020) | |
| Peacemaker 45: A Classic Western | (2021) | |
| Shine: A Mountain Family's Survival | (2021) | |
| Band of Outlaws | (2022) | |
| The Old Dirt Road | (2022) | |
| Hobo Junction | (2022) | |
Publication Order of Short Story Collections
If You Like Larry Linder Books, You'll Love…
The Gunfighter tells the incredible story of Austin Lee Henry. Henry married his high school sweatheart before heading off to fight in the Civil War. When he returned home after the war, fresh off a stint in the Yankee prison camp, to find his wife remarried. Heartbroken, he headed out West where he would become part of the Kiowa nation. The U.S. Calvary heads to his camp where tragedy ensues. From there he would shack up with a gang of outlaws. This story is of a man who endures quite a lot in his life, only to end up right back where he started. A good family saga with well done historical aspects.
Linder's second book is called October's Comet: Does Time Travel Really Exist? and in this book, it does. The book tells the story of Mitch who lost his parents at a young age. Mitch grows up to be quite successful and has a passion for history. One night during a meteor shower, Mitch's mind is awakened and he realizes he is from another time. This is Mitch's story of time travel, finding those he's lost, and dying to return to the place he left behind.
Order of Books » Authors » Order of Larry E. Linder Books