Order of Lydia Sherrer Books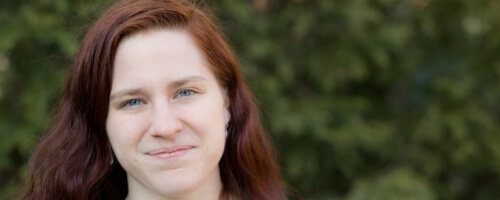 Lydia Sherrer is an American fantasy author who is the creator of the Love, Lies, and Hocus Pocus Universe which spans the Dark Roads Trilogy and the Lily Singer Adventures series.
Sherrer grew up in Kentucky and ended up back there after traveling the world after university. She earned her B.A. in Chinese and Arabic, which took her across the world and she still has a goal to visit every country in her life. She had a love of writing from a young age and decided to pursue it in her career.
Publication Order of The Lily Singer Adventures Books
Publication Order of Dark Roads Trilogy Books
Publication Order of TransDimensional Hunter Books
(with John Ringo)
Publication Order of Short Stories/Novellas
Publication Order of Lily Singer Short Story Collections
If You Like Lydia Sherrer Books, You'll Love…
Beginnings is the first book in the Lily Singer Adventures series. The book introduces us to Lily, a wizard who prefers to be left alone. She enjoys managing the library archives, but her witch friend Sebastian has a bigger flare for adventure and is constantly trying to get her involved in things. Sebastian's latest move is promising her a rare book in exchange for pulling her into an investigation of a malignant spell in a haunted house. She'll have to leave her duties at the library behind and team up with Sebastian to combine their individual gifts to battle the forces of evil.
Lydia is also the author of Accidental Witch which focuses on a teenaged Sebastian Blackwell. He was one of the most popular kids in school and then tragedy struck. Sebastian's parents died in a tragic accident which changed his life for good and turned him into a social outcast. He's having trouble getting over it until the day that he decides to do something about it. He'll delve into his parent's dark secrets and sets out on an impossible quest to right the wrong. However, the price is high and he'll need to decide just how far he's willing to go.
Order of Books » Authors » Order of Lydia Sherrer Books