Order of Bella Forrest Books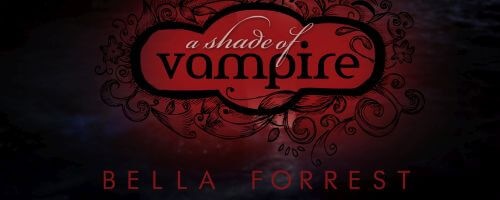 Bella Forrest is an author of paranormal romance and fantasy novels. She writes the Shade of Vampire and Gender Games series. Bella was writing as soon as age 5; she would sit under the kitchen table and create books with crayons. Since then, any free time she's had was spent writing on a notepad. Bella likes writing about vampires, which she can relate to – seeing as how her writing day begins at about 1 A.M.
Bella Forrest became a published novelist in 2012 with the novel A Shade of Vampire. Below is a list of Bella Forrest's books in order of when they were originally published:
Publication Order of A Shade of Vampire Books
Publication Order of Beautiful Monster Books
Publication Order of Shade Of Kiev Books
Publication Order of A Shade of Dragon Books
Publication Order of The Gender Game Books
Publication Order of Detective Erin Bond Books
Publication Order of The Secret of Spellshadow Manor Books
Publication Order of The Girl Who Dared Books
Publication Order of Hotbloods Books
Publication Order of The Child Thief Books
Publication Order of Harley Merlin Books
Publication Order of Love That Endures Books
Publication Order of Darklight Books
If You Like Bella Forrest Books, You'll Love…
Bella Forrest Synopses: Beautiful Monster is the first book in the series of the same name by author Bella Forrest. Liam Swift is a young man Amy has always admired from afar. She's seen his face a thousand times; on the screen and in magazines. He seems unstoppable as his talent and beauty send him hurtling toward becoming a Hollywood legend… Until one day – in what appears to be a fit of madness – he stuns the world by throwing it all away. Not even the most persistent reporter can fathom the reason behind Liam's decision. Never in Amy's wildest dreams could she have imagined this God of acting would go on to accept employment at her local boarding school. Or that he'd personally start teaching her drama lessons. It seems life can't get much better for Amy… until the sound of tortured weeping starts echoing through the thin walls of her dorm room each night, leading her to stumble upon a horrifying secret Liam had hoped to keep hidden forever.
Bare Girl is the first Detective Erin Bond novel by Bella Forrest. Controversy has always followed superstar Isabel Morales. But after a particularly daring, full-nude shoot on Wall Street, it's not only the media that has spiraled into a frenzy. It seems the entire world seem to be turning against her. Rants, insults and death threats – Isabel has seen it all.. But never like this. Her stunt was meant to be a statement of empowerment to women. A show of taking back her body from the capitalists who claim it as their own. But other people don't see it that way. When Isabel vanishes in broad daylight from a building, Private Investigator Erin Bond receives a desperate call from Isabel's manager requesting her to join forces with the police in the case. Erin suspects she's in for the ride of her career, but given Erin's own celebrity status as an abducted child, she never thought it could become the ride of her life… Nothing is as it seems in the search for Isabel Morales.
Order of Books » Authors » Order of Bella Forrest Books