Order of Mickey Zucker Reichert Books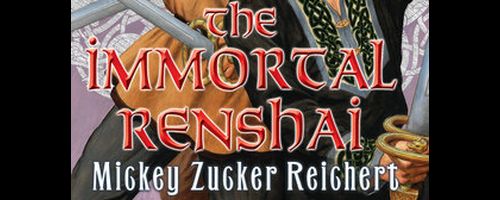 Mickey Zucker Reichert is an American fantasy author best known for writing the Renshai series of books. She was also asked by the estate of Isaac Asimov to write three prequels to Asimov's I, Robot. She has written numerous short stories on top of the novels she has written.
In addition to her work as an author, Mickey is a pediatrician who holds a Doctorate of Medicine. She and her husband are very charitable people and have fostered and adopted children as well as fosters a wide variety of animals, everything from mice to horses.
Publication Order of Renshai Trilogy Books
Publication Order of Renshai Chronicles Books
Publication Order of Bifrost Guardians Books
Publication Order of The Books of Barakhai Books
Publication Order of Isaac Asimov's I, Robot Books
Publication Order of Nightfall Books
Publication Order of Standalone Novels
Publication Order of Collections
Publication Order of Thieves' World Books
(with C.J. Cherryh, Marion Zimmer Bradley, Philip Jose Farmer, Jody Lynn Nye, John Brunner, Dennis L. McKiernan, Diana L. Paxson, Lynn Abbey, Robin Wayne Bailey, Raymond E. Feist, Joe Haldeman, Robert Lynn Asprin, Jeff Grubb)
Publication Order of Anthologies
If You Like Mickey Zucker Reichert Books, You'll Love…
The Last of the Renshai is the first book in the Renshai trilogy. The series takes place in a world of Norse mythology where the world is on the brink of a long-foretold Great War and not even the Wizards are going to be able to put a stop to it. The Renshai are the mightiest and most hated warrior race. Now their enemies have banded together and sprung a surprise attack on their homeland. One Renshai manages to escape and he is now walking the pathways of prophecy, out to claim his vengeance on those who slayed his race. Only now, he may be doomed to become the Champion of the Great War.
Zucker Reichert is also the author of The Legend of Nightfall. The story follows a man who has been known by many names, but the most feared of them is Nightfall. People think that he may be he legendary demon himself-gifted with unique powers which any sorcerer would kill to possess. He is bound by an oath to guard a young prince on his quest. A quest where he will need every trick and talent at his command to keep him and his charge alive.
Order of Books » Authors » Order of Mickey Zucker Reichert Books