Order of Nick Thacker Books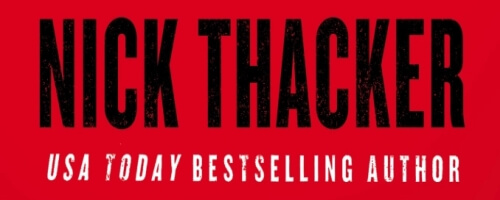 Nick Thacker is an American author of action-adventure thrillers. He has written numerous series including the Harvey Bennett thrillers series, the Six Assassins series, the Mason Dixon thrillers series, the Relics Singularity series, and the Jake Parker thriller series.
Thacker was born in Connecticut, but his family moved to Texas for his upbringing. He now makes his home in Colorado which works great for him as he loves snow and drinking whiskey by the fireplace. He studied music at a young age and pursued a career in composition and film scoring before become an author. His first book was The Golden Crystal and taught him the value of a good editor.
Publication Order of Gareth Red Thrillers Books
Publication Order of Harvey Bennett Books
Publication Order of Harvey Bennett Prequels Books
Publication Order of Jack Barr Thrillers Books
Publication Order of Jake Parker Thriller Books
Publication Order of Jo Bennett Archeological Mystery Books
(with Kristi Belcamino)
Publication Order of The Lucid Books
(with Kevin Tumlinson)
Publication Order of Mason Dixon Thrillers Books
Publication Order of Relics Singularity Books
Publication Order of Six Assassins Books
(with Jim Heskett)
Publication Order of Standalone Novels
Publication Order of Short Stories/Novellas
Publication Order of Non-Fiction Books
Publication Order of Anthologies
If You Like Nick Thacker Books, You'll Love…
The Enigma Strain is the first book in the Harvey Bennett thriller series. The book sees a virus that has been dormant for centuries unleashed. Harvey is a reclusive Yellowstone park ranger who ends up being forced into action alongside a CDC investigator named Juliette Richardson. The bug is causing massive boils and rashes and quickly spreading. The two head into Yellowstone to try and figure out what is causing this and how to stop it.
Thacker is also the author of Containment which follows Jake Parker. He has his world collapse when his wife dies during a police raid which ended up with him leaving the police force. He's ex-military and ex-police, but now he is just a normal civilian. Until the day that a deadly new virus starts threatening American lives and he's taken out of his retirement. Now, Jake is contacted by a government official to launch an investigation into the unknown disease. Jake's job to to get on the ground and eliminate the threat before it becomes an epidemic. Jake's job takes a turn when he finds evidence that this disease could be man-made with designs on the government.
Order of Books » Authors » Order of Nick Thacker Books