Order of James Rollins Books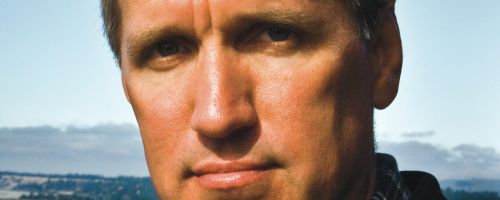 James Rollins and James Clemens are the pen names of American author James Czajkowski. As James Rollins, he writes action-adventure/thriller novels, such as the Sigma Force books. Under the James Clemens pen name, he writes fantasy novels like The Banned and The Banished (Wit'ch) books and the Godslayer series. Before becoming a novelist, Czajkowski was a vet.
James Rollins has been writing since 1998 when Wit'ch Fire began The Banned and the Banished series. Shortly after that, Rollins began writing standalone novels. Below is all of James Rollins' novels in order of when they were originally published:
Publication Order of Sigma Force Books
Publication Order of Sigma Force Short Stories/Novellas
Publication Order of The Banned and the Banished Books
(as James Clemens)
Publication Order of Godslayer Books
(as James Clemens)
Publication Order of Jake Ransom Books
Publication Order of Moon Fall Books
Publication Order of Order Of The Sanguines Books
(with Rebecca Cantrell)
Publication Order of Tucker Wayne Books
(with Grant Blackwood)
Publication Order of Standalone Novels
Publication Order of Short Story Collections
Publication Order of Anthologies
Notes: The Banned and the Banished and Godslayer series were written under the pen name James Clemens. The remaining books, including the Sigma Force and Jake Ransom series were written under the name James Rollins. The Order of the Sanguines series is written with Rebecca Cantrell. The Tucker Wayne series is co-authored with Grant Blackwood. The Devil's Bones is written with Steve Berry.
The Pit, Jack Finney's Invasion of the Body Snatchers and Tagger are part of anthologies that also contain stories by other authors.
If You Like James Rollins Books, You'll Love…
Deep Fathom is a standalone novel by James Rollins. Numerous massive natural disasters have been sparked by solar flares. The world is rocked by hellfire and earthquakes. Unimaginable rates of death increase. Air Force One and the president of the United States have also vanished from the sky amid the commotion.
After returning from an unsuccessful underwater salvage mission, ex-Navy Seal Jack Kirkland discovers that the Earth is on fire and that the United States is on the verge of a nuclear catastrophe. Kirkland is currently on a desperate mission aboard his ocean-going exploration ship, Deep Fathom, which is leading him to an earth-shattering discovery miles below the surface of the ocean. Because devastating secrets and a power that an ancient civilization could not contain have been released into the modern world, and they will forever change a world that is on the verge of being destroyed.
Amazonia by James Rollins is a standalone novel. The scientific expedition led by Rand never left the lush Amazonian wilderness. A former Special Forces soldier, scarred, mutilated, terrified, and only hours from death, has emerged from the world's most inhospitable rainforest years later. He entered with one arm missing. and emerged with both untouched.
The government sends Nathan Rand into an impenetrable secret world filled with unimaginable dangers so that he can follow the trail of his father who has vanished. toward attempting to solve mysteries at any cost. However, the nightmare that Nate and his team of scientists and experienced U.S. Rangers are about to face is far worse than they could have imagined. It involves an ancient, unspoken terror—a power beyond human comprehension—that has the power to forever alter the world beyond the gloomy, lethal confines of…
Ice Hunt is a standalone title by author James Rollins. A remarkable experiment that blurred the line between life and death is buried deep in the earth's polar ice cap, carved into a moving island of ice twice the size of the United States. Ice Station Grendel was the twisted idea of the best minds of the former Soviet Union and was abandoned for more than seventy years. It was made to be inaccessible and almost invisible.
However, the Polar Sentinel, an American submarine research vessel, has accidentally gotten too close. Additionally, a member of the crew has observed something alive inside that defies all natural laws in its ability to survive.
No measures taken to conceal its mysteries will be considered excessive as scientists, soldiers, intelligence agents of two powerful nations, and unsuspecting civilians are all drawn into Grendel's deadly vortex. Because the terrible truths hidden behind steel and ice walls could either make or break humanity's future forever.
Order of Books » Authors »
12 Responses to "Order of James Rollins Books"