Order of Nicole Edwards Books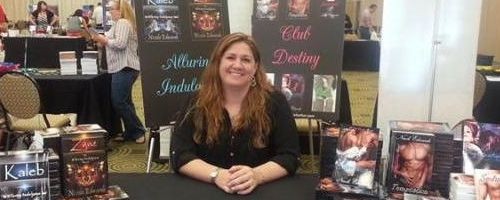 Nicole Edwards is an American author of erotic romance novels. She writes the Club Destiny and Alluring Indulgence series. Nicole (real name Stacy) resides in Texas with her husband and three kids and four dogs. She often hides in her office to avoid the household chaos, her office has been nicknamed "the writing cave" and if she's not there she can be found hanging out with her kids, dogs or her Kindle.
She has always enjoyed writing even from her teenage years and she kept a journal which she continued until a few years ago. If she wasn't logging her thoughts and feelings she was noting names for characters and ideas for books. Writing is not just her hobby it's her full time job and she loves it and considers it a blessing.
Publication Order of Club Destiny Books
Publication Order of Alluring Indulgence Books
Publication Order of Devil's Bend Books
Publication Order of Dead Heat Ranch Books
Publication Order of Unhinged Books
Publication Order of Sniper 1 Security Books
Publication Order of Southern Boy Mafia Books
Publication Order of Devil's Playground Books
Publication Order of Pier 70 Books
Publication Order of Coyote Ridge Books
Publication Order of Austin Arrows: The Season Books
Publication Order of Bad Boys Of Sports Books
Publication Order of Caine Cousins Books
Publication Order of Standalone Novels
Publication Order of Short Story Collections
Publication Order of Omnibus Books
Note: The Unhinged series is written with Timberlyn Scott.
If You Like Nicole Edwards, You'll Love…
Nicole Edwards Synopsis: A Million Tiny Pieces is an Erotic Ménage Romance for Mature Audiences. Mia Cantrell is overjoyed to be divorced and rid of her no good cheating, lying husband and she is ready to move on and grab onto life again. She is taking one step at a time as she is still gaining control over her own life, making her own decisions. Phoenice Pierce after his father passed away is alwo putting the pieces back together and between his NHL team, his multi-million dollar company and all the women falling over themselves to get into his bed he feels like he's just going through the motions. Then he meets Mia and he wants to win her over and Tarik Marx doesn't believe anyone could fill the missing part in his life like Phoenix has without even knowing it, until he meets Mia. Now he wants to find out how he can have both Mia and Phoenix. Note: This book contains sexual encounters and graphic language that some readers may find objectionable, including, but not limited to m/f, m/m, m/f/m and m/m/f encounters. Contains graphic material that is not suitable for anyone under the age of 18.
Order of Books » Authors » Order of Nicole Edwards Books