Order of Rebecca Alexander Books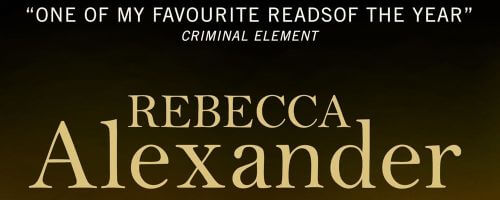 Rebecca Alexander is a British author of crime fiction, supernatural contemporary, historical thriller, and women's fiction novels. Rebecca Alexander had a successful career as a psychologist before taking a break to raise and educate her six children at home. During this time, she pursued her passion for writing and earned an MA in Creative Writing. Her novel, The Secrets of Life and Death, was a finalist in the Mslexia novel writing competition in 2011, and she subsequently secured a book deal for a trilogy. Besides her writing, Rebecca teaches creative writing and makes art. She lives with her husband and cat in Devon, England overlooking the sea. She has two grandchildren.
Rebecca Alexander made her debut as a novelist in 2013 with the novel The Secrets of Life and Death. Below is a list of Rebecca Alexander's books in order of when they were originally released:
Publication Order of Cottage By The Sea Books
| | | |
| --- | --- | --- |
| Secrets of the Cottage by the Sea / The Island of Lost Secrets | (2022) | |
| Memories of the Cottage by the Sea | (2023) | |
| Dreams of the Cottage by the Sea | (2023) | |
| Coming Home to the Cottage by the Sea | (2023) | |
Publication Order of Jackdaw Hammond Books
| | | |
| --- | --- | --- |
| The Secrets of Life and Death | (2013) | |
| The Secrets of Blood and Bone | (2014) | |
| The Secrets of Time and Fate | (2016) | |
Publication Order of Sage Westfield Books
If You Like Rebecca Alexander Books, You'll Love…
Rebecca Alexander Synopses: Secrets of the Cottage by the Sea is the first Island Cottage novel from novelist Rebecca Alexander. Ellie Roberts is taken aback when she inherits a cottage on a remote Scilly Isle from a person she has never heard of, Patience Ellis. Perplexed by this unexpected legacy, Ellie travels to the isolated island in search of answers.
Upon arriving, Ellie is greeted by the strong winds and salt spray from the boat. She embarks on a search for Patience's whitewashed cottage, hidden behind overgrown ivy. Upon entering the cottage, Ellie experiences a sense of déjà vu and recalls laughing with her mother in the window seat as a child. However, Ellie's mother passed away when she was young.
Determined to uncover the truth, Ellie seeks the help of Branok Shore, a local with a mysterious past on the island. Despite his initial indifference, Branok becomes interested in Ellie's story and offers to help her unravel the mystery. As they grow closer, Ellie realizes she must understand her own past before moving forward. Branok uncovers a collection of letters from the Second World War, hidden in Patience's dresser, which reveal a shocking secret that Patience was forced to keep hidden.
The letters tell the story of a terrible storm during the war, and of a soldier who begged for Patience's help and forced her to make an impossible decision. Although the letters reveal an intriguing piece of history, they fail to answer Ellie's burning questions. Why did Patience leave her home to Ellie, and how does Ellie have memories of the cottage when she has never been there before?
Ellie embarks on a journey to uncover the truth, but the answers she uncovers may shatter her world. Will she be able to piece together the fragments of her life and find the strength to move forward?
The Secrets of Life and Death by Rebecca Alexander is the first book in the Jackdaw Hammond series. Professor Felix Guichard is an expert in occult symbols and is called upon to identify markings found on the body of a deceased young girl in modern-day England. His investigation leads him to a mysterious woman named Jackdaw Hammond, who has a shocking secret – she is technically dead, kept alive by magic.
However, their discovery attracts the attention of an ancient and powerful entity who is determined to take the magic that keeps Jackdaw alive. As Felix and Jackdaw race to uncover the identity of this entity, they realize that the answers lie in the ancient diary of Dr. John Dee's assistant, Edward Kelley, who lived in Krakow in 1585.
At that time, Dee and Kelley were summoned to Poland to help save the life of Countess Elisabeth Bathory, a relative of the king who was plagued by a mysterious ailment. But as Dee and Kelley delve deeper into the Countess's condition, they realize that the magic that could save her may be even more dangerous than the illness itself.
As Felix and Jackdaw piece together the centuries-old mystery, they must confront powerful supernatural forces that threaten to destroy them. Their only hope is to find a way to defeat the entity and keep the magic that keeps Jackdaw alive safe.
Order of Books » Authors »