Order of Ruby Lionsdrake Books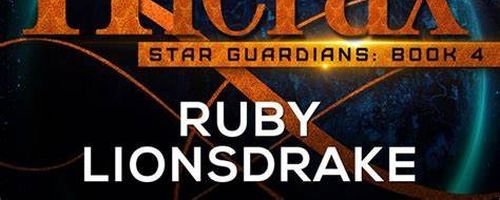 Ruby Lionsdrake is a pen name of American novelist Lindsay Buroker, who uses this pseudonym to write paranormal romance, fantasy and science fiction novels. She writes the Mandrake Company, Frost Station Alpha, and Star Guardians series. Besides being a novelist, Lionsdrake is also a blogger. When she's not writing, she's spending time with her dogs, playing tennis, or reading.
Ruby Lionsdrake began using this pen name in 2014 with the novel Mercenary Instinct, launching the Mandrake Company series. Below is a list of Ruby Lionsgate's books in order of when they were first released:
Publication Order of Frost Station Alpha Books
Publication Order of Mandrake Company Books
Publication Order of Star Guardians Books
Publication Order of Standalone Novels
If You Like Ruby Lionsdrake Books, You'll Love…
Susan Grant
Catherine Spangler
Ruby Lionsdrake Synopsis: Stars Across Time is a standalone novel by Ruby Lionsdrake. Air Force pilot Andromeda "Andie" Kim dreams of joining NASA and going into space. Instead, she's stolen by savage kidnappers from a dystopian future where fertile women are needed for breeding purposes. One of her kidnappers, a man named Mace, goes out of his way to protect her from the other slavers, but Andie's trust is not so easily earned. All she wants is to escape and find a way back to her time before she's sold as broodstock and stuck in this ruined world forever. Colonel Aloysius "Mace" Theron of the Cascadian Alliance is a battlefield commander, not a spy, but after twenty years of service, he's also trusted by his superiors. That's why they choose him for a top-secret mission: to infiltrate an organization of thieves using a time machine to plunder the past. He's supposed to find and destroy the machine, not fall in love with one of the captives, but Andie is as much of a fighter as he is, and he's drawn to her from the beginning. Yet if he fights too hard to protect her, his identity will be discovered and his mission will fail, leaving criminals to terrorize the past, perhaps irrevocably changing history and endangering everyone he knows and loves.
Order of Books » Authors » Order of Ruby Lionsdrake Books