Order of Sylvia Mercedes Books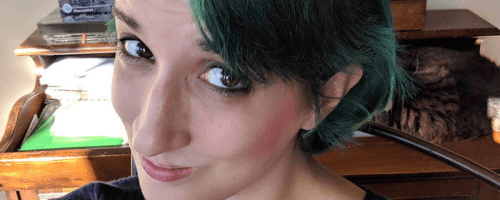 Sylvia Mercedes is an author of fantasy novels. Despite having previously worked in traditional publishing, Sylvia opted to embark on a new adventure in the indie publishing realm and has relished every moment of it. She is the author of the popular Venatrix Chronicles, The Scarred Mage of Roseward trilogy, and the romantic fantasy series, Of Candlelight and Shadows. Sylvia resides in the serene countryside of North Carolina, where she lives with her dashing husband, several young children, and two lively felines named The Fluffy Brothers. When she isn't immersed in writing, Sylvia can be found chasing after her daughter, tidying up glitter, attempting to devise wholesome meal plans, and hunting for her misplaced phone. In her spare time, she indulges in a steady stream of fantasy literature.
Sylvia Mercedes made her debut as a novelist in 2019 with Daughter of Shades, launching her Venatrix Chronicles series. Below is a list of Sylvia Mercedes' books in order of when they were originally released:
Publication Order of Bride of the Shadow King Books
Publication Order of Of Candlelight and Shadows Books
Publication Order of Once in Whispering Wood Books
Publication Order of Prince of the Doomed City Books
Publication Order of The Scarred Mage of Roseward Books
Publication Order of The Venatrix Chronicles Books
Publication Order of Stolen Brides Of The Fae Books
Chronological Order of Stolen Brides Of The Fae Books
Publication Order of Villain's Ever After Books
If You Like Sylvia Mercedes Books, You'll Love…
Sylvia Mercedes Synopses: Bride of the Shadow King by Sylvia Mercedes is the first book in the series of the same name. Princess Faraine, despite being the eldest daughter, lives a life of seclusion and neglect, away from the court's limelight. Her chronic illness is deemed as a hindrance to the royal family, and she has learned to accept her younger sister's precedence in everything.
When the mysterious and attractive Shadow King arrives to find a bride, Faraine anticipates her sister's selection.
King Vor, though not interested in taking a human bride, is willing to do what is necessary for his people. Upon meeting the vivacious Princess Ilsevel, he agrees to a marital alliance without hesitation.
But why does he find himself unable to shake off the mesmerizing gaze of her older sister?
The Moonfire Bride by Sylvia Mercedes is the first book in the Of Candlelight and Shadows series. Valera's life is a monotonous routine, devoid of magic or romance. She toils tirelessly as a seamstress to provide for her younger sister and shield her from the allure of the fae forest. Valera fears that one day the fae will whisk her sister away, leaving her powerless to stop them.
Her apprehensions become a reality when the fae abduct Valera instead of her sister. She finds herself trapped in a breathtaking palace, far from her familiar world, and compelled to marry an inscrutable fae lord. He assures her that he won't harm her and promises to return her to her world after a year and a day, provided she obeys one rule: never to see his face.
Valera is determined to return to her sister and unravel the mysteries of her supposed husband. Why does he need a wife so urgently? And why was she specifically chosen? As she grapples with conflicting emotions of love, duty, and newfound independence, Valera must find her place in this strange new world. But could her burgeoning passion for the mysterious figure lurking in the shadows lead to her downfall?
Entranced is the first book in Sylvia Mercedes' Prince of the Doomed City series.
Clara is an Obligate, a human servant bound to serve the whims of a fickle fae princess at the Court of Dawn. She is unsure why she was chosen for this role, only that she broke a sacred pledge and must atone for it by fulfilling her Obligation.
If Clara can remain inconspicuous and adhere to the strict rules, she may survive until her Obligation ends. However, she finds it challenging to resist the irresistible Lord Ivor's enchanting gaze and avoid the envious wrath of Princess Estrilde, who desires Lord Ivor for herself.
Furthermore, Clara must evade the Prince of the Doomed City's treacherous machinations, as he seeks to purchase her Obligation for his own sinister purposes.
Order of Books » Authors »