Order of Tammy Andresen Books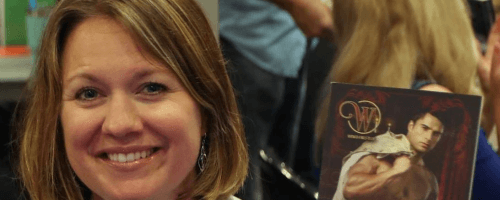 Tammy Andresen is an American author of contemporary, historical, and YA romance novels. She writes the Calling All Rakes, Dark Duke's Legacy, Lords of Scandal, Romancing the Rake, Taming the Heart, and several other series. She is a USA Today bestselling author. Tammy spent her childhood on the Seacoast of Maine, where she spent endless days daydreaming stories in blueberry fields and among the scrub pines that adorn the coast. Tammy's love for storytelling stems from her mother, who had a passion for spinning a yarn. She spent countless hours listening to her mother retell the classics. At the age of 18, Tammy pursued her passion for literature and education by attending Simmons College in Massachusetts, where she studied English literature and education. Although she never left Massachusetts, a part of her heart still remains in Maine, and her family (her, her husband, and three children) frequently visits.
Tammy Andresen made her debut as a published author in 2015 with the standalone novel Lily in Bloom. Below is a list of Tammy Andresen's books in order of when they were originally released:
Publication Order of Accidental Kisses Books
Publication Order of Brethren of Stone Books
Publication Order of Brides of Scotland Books
Publication Order of Calling All Rakes Books
Publication Order of Chronicles of a Bluestocking Books
Publication Order of Dark Duke's Legacy Books
Publication Order of Fairfield Fairytales Books
Publication Order of How to Reform a Rake Books
Publication Order of A Laird to Love Books
Publication Order of Lords of Scandal Books
Publication Order of Lords of Temptation Books
Publication Order of Puppy Love Books
Publication Order of Romancing the Rake Books
Publication Order of Taming the Heart Books
Publication Order of Wicked Lords of London Books
Publication Order of Standalone Novels
Publication Order of Boys of Summer Books
Publication Order of Connected by a Kiss Books
Publication Order of De Wolfe Pack Connected World Books
Publication Order of Enduring Legacy Books
Publication Order of Fortunes of Fate Books
Publication Order of House of Devon Books
Publication Order of Wicked Earls' Club Books
Publication Order of Anthologies
If You Like Tammy Andresen Books, You'll Love…
Alexa Aston
Scarlett Scott
Tammy Andresen Synopses: Scottish Devil by Tammy Andresen is the first book in the Brethren of Stone series. Stone Sinclair, the Earl of Alban, is notorious for his unyielding and uncompromising nature, earning him the nickname "the devil." However, when he meets a fierce and strong-willed young woman with striking golden locks, he finds himself tempted to surrender to her.
Eliza McLaren despises all lairds for their selfish and arrogant ways, including Lord Stone Alban who she believes is the worst of them all. When her father tries to arrange a marriage between them, Eliza makes a vow to never give herself to a man like Stone, even if he has tempting lips and strong arms.
Despite their mutual animosity, a fiery passion begins to grow between them, leading Eliza to question whether fire and brimstone are inevitably linked forever. Both of them are as unyielding as stone, but for how long can they resist the burning desire that threatens to consume them both?
A Lass to Love is the first book in Tammy Andresen's Brides of Scotland series. Having spent far too much of her life waiting for unreliable men, Fiona MacFarland is not about to let another rakish charmer distract her. Despite her engagement to a fiancé who never bothered to collect her, Fiona is determined to travel to England to track him down without being sidetracked by the likes of the notorious rake, Thomas Mayweather. She's had enough experience with rakes to last a lifetime, but Thomas is so devastatingly handsome that it's hard for her to ignore him. And when he kisses her, Fiona starts to wonder if rakes are worth the trouble after all.
Thomas Mayweather is a successful wool merchant who has encountered countless beautiful women in his line of work. Many of them have been eager to share his bed, only to later wash away any association with the merchant class. He has no desire for another affair with a woman who is betrothed to an earl. However, after one accidental kiss, Thomas is smitten with the innocent and alluring Fiona. Though he never wanted to marry, he can't resist the temptation of Fiona and starts to see her as the most captivating woman he's ever met.
Too Wicked to Woo is Tammy Andresen's first book in the Chronicles of a Bluestocking series. Miss Penny Clearwater is a woman who prides herself on being sensible. She has faced the death of her mother, her father's financial ruin, and her own fall from society with as much grace as possible. When her friend, Lady Chloe Dryden, suggests creating a chronicle to teach young ladies in London about rakes, Penny initially refuses. She thinks it's a foolish idea that could end in disaster. However, since she has almost nothing left to lose, she decides to do some research on the perfect rake when he crosses her path, Lord Wesley Preston. Of course, she's only interested in the book… or is she?
Lord Wesley Preston hasn't had much luck since leaving the military. His earldom is failing, his accountant is bad, and he has a drinking problem. He desperately needs a break. When Miss Clearwater enters his life, he discovers that she has inherited a large piece of land that would be perfect for farming. If only she had someone to help her do the work. Wes makes her a proposition he hopes she can't refuse: accept his marriage proposal, become a countess, and improve both their lives.
The problem is that Penny takes one look at him and declares him the worst kind of rake. She's not wrong, of course. But how far will Wes go to prove to her that he can change?
Order of Books » Authors » Order of Tammy Andresen Books