Order of Tilly Wallace Books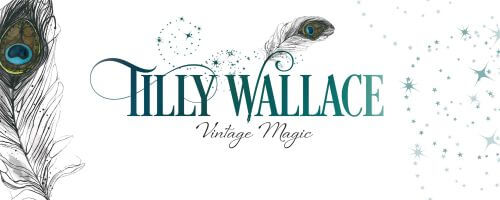 Tilly Wallace is an author of historical/paranormal fantasy novels. Tilly loves hats and drinks way too much coffee. She sets her novels in a bygone era in a magical world, complete with loveable yet quirky characters and gentle humour. Friendship is an important aspect of her novels, and she has her characters demonstrate that in a world where nothing is for certain, you can always rely on those closest to you.
Tilly Wallace made her debut as a novelist in 2017 with the novel Secrets to Reveal, which launched her Highland Wolves series. Below is a list of Tilly Wallace's books in order of when they were originally released:
Publication Order of Highland Wolves Books
Publication Order of Manners and Monsters Books
| | | |
| --- | --- | --- |
| Manners and Monsters | (2019) | |
| Galvanism and Ghouls | (2019) | |
| Gossip and Gorgons | (2020) | |
| Vanity and Vampyres | (2020) | |
| Sixpence and Selkies | (2021) | |
| Hessians and Hellhounds | (2021) | |
| Mistletoe and Mireworth | (2021) | |
Publication Order of Tournament Of Shadows Books
If You Like Tilly Wallace Books, You'll Love…
Tilly Wallace Synopses: Secrets to Reveal by Tilly Wallace is the first book in the Highland Wolves series. England, 1812. Aster Simmons has normal life working as a secretary and who loves puzzles – until an ill-mannered Scotsman shows up and lounges around her office like a very large canine. The glances he gives her make her have thoughts that are most definitely not routine. Hamish Logan, captain in the Highland Wolves, has been given a mission to protect the man working on a coded list of traitors. If the Wolves are going to gain rights equal to that of human rights, he has to prove to those in power that a wolf can be civilised. The only problem is the fascinating secretary, who makes his wolf rise to the surface and makes him want to do very uncivilised things. When the traitors make their move, Aster flees with a wolf in pursuit. But can she discover who is behind the plot against England before she forfeits her heart and her life?
Manners and Monsters is the first book in a series of the same name from novelist Tilly Wallace. Hannah Miles lives a quiet existence, assisting her parents research a horrible affliction – until a gruesome murder during her best friend's engagement party takes her out from the shadows. With her specialist's knowledge and demure disposition, Hannah is requested to aid in the investigation. Except Hannah discovers her role is to apologise in the wake of the rude and disgraced man tasked with finding the murderer. The obnoxious Viscount Wycliff thinks to employ Hannah purely as a front to satisfy Whitehall, but she'll have none of it. The two must work side-by-side to find the murderer before the season is ruined. But the viscount is about to meet his toughest challenge, and it's not a member of the ton with a hankering for brains.
Opening Gambit by Tilly Wallace is the first book of the Tournament of Shadows series. The first female magic practioner to hit adulthood in England for hundreds of years, Seraphina Winyard is viewed as a freakish chattel by some… and by others as a danger that must be wiped from history. Held captive and humiliated like a circus animal, her future seems bleak, and she has no hope in the present. Until she escapes.
When her former guardian is murdered, suspicion falls straight onto Seraphina. Aided by the brilliant surgeon Hugh Miles, she must learn how to use her power to find the actual murderer before her leash will be traded for a noose.
With her life hanging in the balance, Sera must act fast. The more she digs, the more she discovers she is a pawn in someone else's game. A game of magic and lies that intends to resurrect an ancient evil. A game that will shake England to its foundation and threaten everyone she loves…
Order of Books » Authors » Order of Tilly Wallace Books
One Response to "Order of Tilly Wallace Books"