Order of Tricia Goyer Books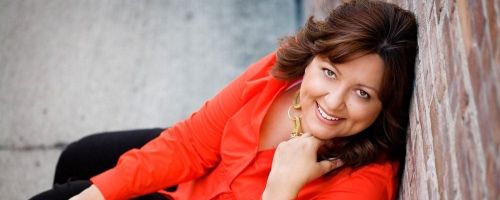 Tricia Goyer is an American of inspirational fiction, historical fiction and non-fiction books. She writes books to give readers delight, entertainment, encouragement and hope. Her contemporary and historical fiction are centered around strong women who must overcome great obstacles. In her historical works, she researches the time she's set her novel in comprehensively. She often speaks to groups about these eras and looks to honour the memories of those who served. Tricia is a mother of ten, grandmother, and wife.
Tricia Goyer made her debut as a novelist in 2003 with the novel From Dust and Ashes. Below is a list of Tricia Goyer's books in order of when they were originally released:
Publication Order of Amish Garden Books
Publication Order of Amish Second Christmas Books
Publication Order of Big Sky Books
Publication Order of Chronicles of the Spanish Civil War Books
Publication Order of Home To Heather Creek Books
Publication Order of The London Chronicles Books
Publication Order of Love Finds You Books
Publication Order of Pinecraft Pie Shop Books
Publication Order of Seven Brides for Seven Bachelors Books
Publication Order of Swiss Agents Books
Publication Order of World War II Liberator Books
Publication Order of Standalone Novels
Publication Order of Picture Books
(with Amy Parker)
Publication Order of Non-Fiction Books
Publication Order of Anthologies
Notes: The Pinecraft Pie Shop series is written with Sherry Gore. The Swiss Courier and Chasing Mona Lisa were co-authored by Mike Yorkey. Moms' Night Out was written with Andrew Erwin, Jon Erwin and Andrea Nasfell. A Christmas Visitor and An Unexpected Joy were written with Amy Clipston, Kelly Irvin and Ruth Reid. The Love Finds You books were written with Ocieanna Fleiss.
Life, In Spite of Me was written alongside Kristen Jane Anderson. Praying for Your Future Husband was written with Robin Jones Gunn. Lead Your Family Like Jesus was written with Ken Blanchard and Phil Hodges. Plain Faith was written with Ora-Jay & Irene Eash.
If You Like Tricia Goyer Books, You'll Love…
Tricia Goyer Synopsis: The Swiss Courier is a standalone novel by Tricia Goyer and Mike Yorkey. Set in August 1944, the Gestapo is mercilessly gathering up suspected enemies of the Third Reich. When Joseph Engel, a German physicist working on the atomic bomb, discovers that he is actually a Jew, adopted by Christian parents, he must flee for his life to neutral Switzerland. Gabi Mueller is a young Swiss-American woman working for the newly formed American Office of Strategic Services (predecessor to the CIA) close to Nazi Germany. When she is asked to risk her life to safely assist Engel out of Germany, the fate of the world rests in her hands. If she can get him to safety, she can keep the Germans from developing nuclear capabilities. But in a time of traitors and uncertainty, does she know who to trust?
Order of Books » Authors » Order of Tricia Goyer Books