Order of Amos Decker / Memory Man Books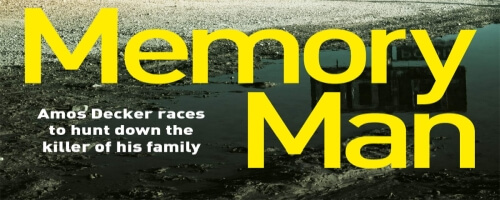 Amos Decker / Memory Man is a popular series of books by the author David Baldacci. The series focuses on Amos Decker aka the Memory Man, a gifted police detective who uses his perfect memory to help solve crimes.
Baldacci decided to write a new series because he was trying to get out of his comfort zone and challenge himself. He made the decision to make the Amos Decker story into a series because of the ability to develop characters over time. In a lot of ways, Decker is the anti-thesis to the types of characters that Baldacci has written about in the past.
Publication Order of Amos Decker Books
| | | |
| --- | --- | --- |
| Memory Man | (2015) | |
| The Last Mile | (2016) | |
| The Fix | (2017) | |
| The Fallen | (2018) | |
| Redemption | (2019) | |
| Walk the Wire | (2020) | |
| Long Shadows | (2022) | |
If You Like Amos Decker / Memory Man Books, You'll Love…
The first book is called Memory Man and introduces us to Amos Decker. He was a big, towering athlete who became the first person from his town to play in the NFL. However, once he began to play – his career ended. On the very first play of his NFL career, he had a violent collision that took him off the field and left him with a unique brain injury. Decker's injury made it so he couldn't forget anything in his life. This comes into play nearly two decades later when Decker is working as a police detective and his family has been murdered. He'd love to forget this painful memory, but he is unable to. The killer is a mystery, but Decker remembers everything from that night and that cost him his entire life. The book picks up when he is working as a private investigator. A man comes to the police station and confesses to his family's murders which causes the police to bring Decker in to help put the pieces together.
Baldacci followed that book up with The Last Mile. This book sees Decker taking a job with the FBI and put on the case of Melvin Mars. Melvin was due for execution when someone came in and confessed to the crimes. Decker will have to find out if the confession is real or not, as well as try and figure out why someone might want Mars released.
Order of Books » Characters » Order of Amos Decker / Memory Man Books