Order of Doc Savage Books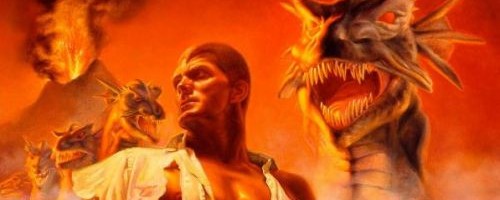 Doc Savage is the protagonist in a series of action-adventure pulp fiction novels written under the house name of Kenneth Robeson. The character was created by Henry Ralston, John Nanovic and Lester Dent (who wrote the majority of the novels in the series' original run). Clark "Doc" Savage, Jr. has a genius-level IQ, is in perfect physical shape, is a skilled scientist, surgeon, inventor, detective and martial artist. He also has a photographic memory and is a master of disguise. The Doc Savage character has also appeared in radio, comics and a 1975 film entitled Doc Savage: Man of Bronze.
Doc Savage made his first appearance in The Man of Bronze, published in 1933 as the first issue of Doc Savage Magazine. The original series lasted 181 novels. The series was later reprinted by Bantam Books beginning in 1964. In 1979, an original novel that had been rejected during the original run was published for the first time. Its original title was In Hell, Madonna, but was published as The Red Spider. The series was later revived in the early nineties for 8 novels, and then again in 2011. The series is currently ongoing. Below is a list of Kenneth Robeson's Doc Savage books in order of when they were originally published:
Publication Order of Doc Savage Books
Publication Order of All-New Wild Adventures Of Doc Savage Books
Publication Order of Doc Savage Collections
Publication Order of Doc Savage Non-Fiction Books
Notes: Ost was published by Bantam as The Magic Island . Repel was published by Bantam as The Deadly Dwarf. According to Plan of a One-Eyed Mystic was shortened to One-Eyed Mystic for its Bantam re-issue. Violent Night was re-titled as The Hate Genius by Bantam. The Spook Legion was also titled The Ghost Legion.
If You Like Doc Savage Books, You'll Love…
Doc Savage Synopsis: In The Sargasso Ogre by Kenneth Robeson (Lester Dent), Doc Savage and his friends are stuck in the Bermuda Triangle. They end up on a vast armada of rotting ships where they must battle a gang of vicious criminals.
Shop Worldwide: Amazon.com | Amazon.co.uk | Amazon.ca
Order of Books » Characters » Order of Doc Savage Books