Order of Grk Books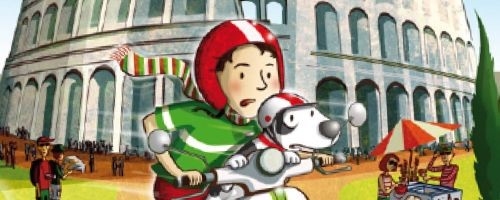 Grk is a series of children's books by British author Joshua Doder (Josh Lacey). The series is about a boy named Timothy Malt who finds a lost dog, who he ends up going on all kinds of adventures with around the world.
Joshua Doder began his Grk series in 2005 with his debut novel, A Dog Called Grk. The series has eight books, with the most recent being 2012's Grk and the Phoney Macaroni. Below is a list of Joshua Doder's Grk books in order of when they were originally published (which is the same as their chronological order):
Publication Order of Grk Books
| | | |
| --- | --- | --- |
| A Dog Called Grk | (2005) | |
| Grk and the Pelotti Gang | (2006) | |
| Grk and the Hot Dog Trail | (2006) | |
| Grk Operation Tortoise | (2007) | |
| Grk Smells a Rat | (2008) | |
| Grk Takes Revenge | (2009) | |
| Grk Down Under | (2010) | |
| Grk and the Phoney Macaroni | (2012) | |
Grk Synopsis: In A Dog Called Grk by Joshua Doder, Tim meets a stray dog and he's determined to find the friendly pet's owners. But with a little investigating, Tim discovers that Grk's owners don't live in his town, or even in his country. Max and Natascha Raffifi, Grk's owners, have been kidnapped with their ambassador parents by the evil Colonel Zinfandel and taken to a prison in Eastern Europe! Tim knows he's about to undertake a mission his parents most likely would not approve of. He sneaks out of the house in the middle of the night with Grk, catches a taxi to the airport, then hops a plane to Stanislavia. Together he and Grk will have to break into a high-security prison, pilot a helicopter, and make a nail-biting run for the border in this high-octane, international adventure.
Order of Books » Characters » Order of Grk Books