Order of Hunter Killer Books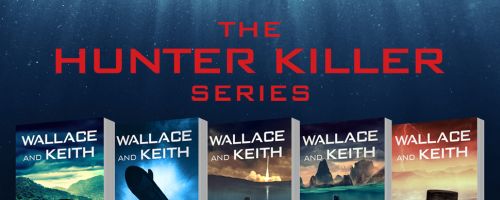 Hunter Killer is a series of books written by Don Keith and George Wallace. The series follows Commander Jonathan Ward and his crew on the old attack sub Spadefish. The series is fast-paced and thrilling, and has drawn comparisons to some of Tom Clancy's work.
Don Keith is a long-time author while George Wallace served in the Navy for many years. Wallace commanded the Los Angeles-class nuclear attack submarine USS Houston. The book Firing Point was turned into a film called Hunter Killer starring Gerard Butler, Gary Oldman, Michael Nyqvist, Common, Linda Cardellini and Toby Stephens. The film was directed by Donovan Marsh and written by Arne Schmidt and Jamie Moss.
Publication Order of Hunter Killer Books
(By: Don Keith, George Wallace)
| | | |
| --- | --- | --- |
| Final Bearing | (2003) | |
| Dangerous Grounds | (2019) | |
| Cuban Deep | (2019) | |
| Fast Attack | (2019) | |
| Arabian Storm | (2020) | |
| Warshot | (2021) | |
| Silent Running | (2022) | |
| Snapshot | (2023) | |
If You Like Hunter Killer Books, You'll Love…
The Hunter Killer series begins with Final Bearing. A US Navy SEAL team has been sent to South America with a mission to destroy a secret drug laboratory belonging to one of the most notorious drug lords in the world, Juan de Santiago. The Navy sends Commander Jonathan Ward and his crew on the old attack sub Spadefish to assist, and it is meant to be the Spadefish's final mission. Santiago is ready for them though and the violent billionaire has his own private army and a futuristic mini-submarine of his own that he will use to protect his empire.
The series continued with Dangerous Grounds. The story sees three seperate U.S. services brought together in this explosive adventure. A DEA agent is investigating the drug trade in Asia when he stumbles onto a deadly plot; a Navy SEAL team is looking for stolen Russian nuclear weapons in east Asia; and a young Naval Academy midshipman finds himself trapped onboard a hijacked submarine. They will all have to group together to battle radical terrorists and criminal drug syndicates in the deadliest waters on Earth.
Order of Books » Characters »