Order of Miss Pink Books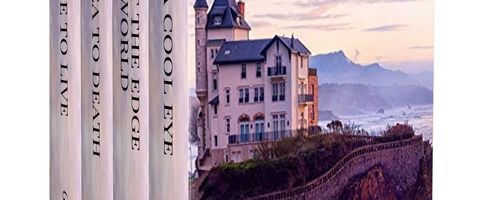 Miss Pink is a series of mystery novels by British author Gwen Moffat. Miss Melinda Pink is a middle-aged Scottish lady who works as a magistrate, who is also a mountaineer. She solves mysteries that occur in the mountains throughout the British Isles and the United States.
Gwen Moffat began her Miss Pink series in 1973 with the novel Lady with a Cool Eye. Below is a list of Gwen Moffat's Miss Pink books in order of when they were originally released:
Publication Order of Miss Melinda Pink Books
| | | |
| --- | --- | --- |
| Lady with a Cool Eye | (1973) | |
| Miss Pink at the Edge of the World | (1975) | |
| Over the Sea to Death | (1976) | |
| A Short Time to Live | (1976) | |
| Persons Unknown | (1978) | |
| Die Like a Dog | (1982) | |
| Last Chance Country | (1983) | |
| Grizzly Trail | (1984) | |
| Snare | (1988) | |
| The Stone Hawk | (1989) | |
| Rage | (1990) | |
| The Raptor Zone | (1990) | |
| Veronica's Sisters | (1992) | |
| The Lost Girls | (1998) | |
| Private Sins | (1999) | |
| Retribution | (2002) | |
If You Like Miss Pink Books, You'll Love…
Remington Mansion Mysteries
Sadie Kramer Flair Mysteries
High Society Lady Detective
Miss Pink Synopses: Lady with a Cool Eye by Gwen Moffat is the first book in the Miss Pink series. The warden of the Plas Mawr Adventure Centre, Charles Martin, is a weak man whose unfaithful wife, Bett, has driven him to drink. Then Bett is found dead in her husband's crashed Jaguar, at the foot of a cliff. At first, it is thought to be an accident or suicide, but later it is determined that it was murder. Tough, middle-aged Miss Pink, one of the Centre's directors, proves herself to be a shrewd amateur detective. She puts two and two together and realises that the Centre is being used as a cover for something very serious.
Miss Pink at the Edge of the World is book two in the series. When two climbers die mysteriously on The Old Man of Scamadale — a stack off the coast of Scotland — the police, who know nothing of climbing techniques, would accept the deaths as accidents. It's Clive and his climbing friends who convince them, from their own knowledge of the stack, that both men were murdered — and in doing so they put themselves under strong suspicion, for they alone appear to have the expertise needed to perform the killings. An ironical situation, but amateur sleuth Miss Pink handles it with her usual subtle detection.
Order of Books » Characters » Order of Miss Pink Books