Order of Napoleonic Horseman Books
Array
(
    [] => 1
)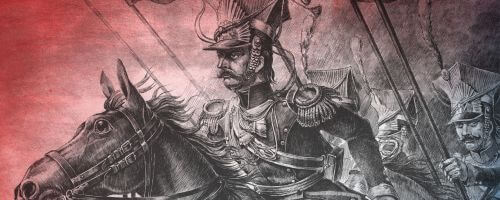 The Napoleonic Horseman series is a series of historical fiction novels by British novelist Griff Hosker. The series follows Robbie Macgregor – a Franco-Scot forced to join the French army, or lose his head. The series is set in various parts of Europe from 1780 to 1815.
Griff Hosker began his Napoleonic Horseman series in 2013 with the novel Chasseur à Cheval. Below is a list of Griff Hosker's Napoleonic Horseman books in order of when they were originally published (which is also their chronological order):
Publication Order of Napoleonic Horseman Books
| | | |
| --- | --- | --- |
| Chasseur à Cheval | (2013) | |
| Napoleon's Guard | (2013) | |
| British Light Dragoon | (2014) | |
| Soldier Spy | (2014) | |
| 1808 | (2014) | |
| Talavera | (2019) | |
| The Lines of Torres Vedras | (2019) | |
| Bloody Badajoz | (2020) | |
| The Road to France | (2020) | |
If You Like Napoleonic Horseman Books, You'll Love…
Dragonheart
Wolf Brethren
Napoleonic Horseman Synopses: Chasseur à Cheval is the first novel in the Napoleonic Horseman series by Griff Hosker. Robbie Macgregor is the illegitimate son of a French Aristocrat and a Scottish servant. Unwanted by his father and finding himself without any power or money, he is still hated by the masses. Forced to join the French army to save his head, his new career gives him chance to be reborn. Robbie is involved with the capture of the Dutch Fleet on the Texel and the conquest of Malta, catching the eye of a young French General, Napoleon Bonaparte, who is quickly rising to power.
Napoleon's Guard by Griff Hosker is book 2 in the series. Robbie Macgregor is a Chasseur of France but Napoleon Bonaparte has him work as a spy. He is caught up in the Egyptian campaign facing enemies from within and without.
Order of Books » Characters » Order of Napoleonic Horseman Books