Order of Ravenwood Mysteries Books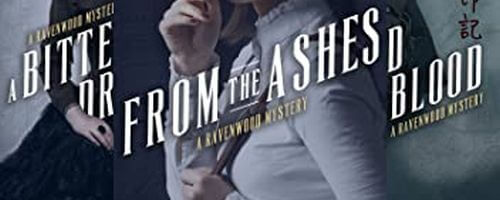 The Ravenwood Mysteries is a series of books by Sabrina Flynn. The series began in 2014 with the release of From the Ashes. The series takes place in Victorian San Francisco and features a gentleman detective and a headstrong heiress solving mysteries in a classic film noir style.
The series features Atticus Riot, a former gambler turned detective, and Isobel Kingston, a tough and unconventional woman. Flynn began her writing career in 2013 when she released her debut novel, A Thread in the Tangle. She makes her home in the Babrary Coast.
Publication Order of Ravenwood Mysteries Books
| | | |
| --- | --- | --- |
| From the Ashes | (2014) | |
| A Bitter Draught | (2015) | |
| Record of Blood | (2017) | |
| Conspiracy of Silence | (2018) | |
| The Devil's Teeth | (2019) | |
| Uncharted Waters | (2019) | |
| Where Cowards Tread | (2020) | |
| Beyond the Pale | (2021) | |
If You Like Books, You'll Love…
From the Ashes is the first book in the series. The story introduces us to Atticus Riot who returns to San Francisco to wrap up his retirement from detective work. However, he is soon thrown into the search for a missing heiress. The woman had recently gotten married to an influential person in San Francisco and has now gone missing. Atticus thinks there is something strange about the case and is soon proven correct. The book tells a great standalone story and also sets the stage for the rest of the series.
The series then continues with A Bitter Draught. The story begins with a mysterious suicide that saw a woman write her last words in the sands just before passing. Isobel decides to get into the investigation as she thinks there is more to the case. However, money will become a problem with leads to her getting a job at a newspaper which only helps her investigating. Riot gets a call from a man who wants him to look into his wife's death. His investigation will soon bring him to Isobel and the two team together to learn the truth about the woman's strange death.
Order of Books » Characters » Order of Ravenwood Mysteries Books