7th John Rain Book Announced
Written by Dan Malone on Saturday, August 6th, 2011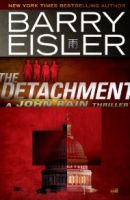 It's been a few years since we last seen John Rain, but thankfully we don't have to wait too much longer, with the announcement of the latest book in the John Rain series.
The John Rain series currently has 6 novels and a movie to its name, and the 7th book in the series has been announced by Barry Eisler.
The 7th John Rain book is entitled The Detachment, with John getting a job that will result in a multi-million dollar payday. Unfortunately for John he's not going to be able to do it alone. Fortunately for the readers, John looks to Ben Treven for help.
The Detachment release date is set for October 18, 2011. Pre-Order It Here.
Order of Books » News »