Calvin & Hobbes Watercolour Sells for $107,550
Written by Julie Vegas on Friday, February 24th, 2012
This past Thursday, a 13″ X 10″ watercolour by Calvin & Hobbes creator Bill Watterson was put up for auction. According to Heritage Auctions, this piece of original art from the late-80s sold for $107,550. That's a lot of money for a "funny."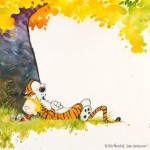 The piece was estimated by Heritage Auctions at being valued at $50,000 less than what it sold for.
The artwork, originally from the 1989-90 calendar, depicts Calvin and Hobbes taking a nap under a tree on a nice day.
Last year, Bill Watterson released the first public art he has produced in over 15 years as a contribution to Team Cul de Sac. The reclusive Watterson was unavailable for comment.
Order of Books » News » Calvin & Hobbes Watercolour Sells for $107,550