Order of A.J. Aalto Books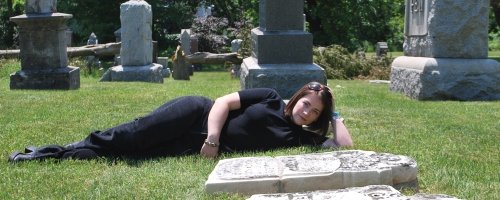 A.J. Aalto is a Canadian fiction author best known for writing the paranormal mystery series, The Marnie Baranuik Files.
Aalto has many careers and hobbies in addition to writing. She is also a biologist while also studying criminal psychology and behavior. In addition to that, she is also an axe-thrower, a bellydancer, and a PVP gamer. She also enjoys singing Monty Python songs and drinking tea. She was born in St. Catherines and is a native of the Niagara region, something she takes great pride in. She is married with children and pets.
Publication Order of The Marnie Baranuik Files Books
Publication Order of Marnie Baranuik Files Short Stories/Novellas
Publication Order of Short Stories/Novellas
Publication Order of Standalone Novels
If You Like A.J. Aalto Books, You'll Love…
The first book in the Marnie Baranuik Files series is called Touched. The book introduces us to the title character, a forensic psychic who the media has dubbed "the Great White Shark". She has been twice touched by the Blue Sense which has given her the ability to feel the emotions of others, as well as read impressions of them on objects left behind. She doesn't just rely on her gifts though, she also has a doctorate in preternatural biology and a working knowledge of the dark arts. She is truly one of a kind, in her career and as a character. The book sees her called back to work by the FBI as she heads after a stab-happy starlet, a rampaging ghoul, and a vampire-hunting jackass in tight Wranglers.
The second book in the series is called Death Rejoices. The book sees Marnie back in action with a load on her plate. There is possibly an ancient vampire doing their hunting in Denver, zombies are on the loose and someone is stalking Lord Dreppenstedt. Marnie has her work cut out for her when she is forced to team up with her sexual nemesis, Special Agent Mark Batten, and their long-suffering supervisor, Gary Chapel.
Order of Books » Authors » Order of A.J. Aalto Books