Order of Aaron Zenz Books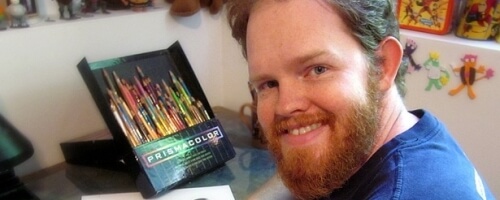 Aaron Zenz is a popular children's author and illustrator. He is known for the beautiful colored drawing in his books. His best known book may be The Hiccupotamus which follows a hippopotamus that can't stop hiccupping.
Zenz has had a large variety of careers in the art world as he has worked as a illustrator, fine artist, a toy designer, college instructor, graphic recorder, and designer of multimedia during his life. He always had a strong love of children's books though and he has a personal collection of 3,500+ children's books at his home. Zenz is well-known for his work creating illustrations with the colored pencil as he always achieves rich vivid colors in his drawings. While he has been an illustrator for many books, he has also created books where he has served as author and illustrator.
Publication Order of Picture Books
| | | |
| --- | --- | --- |
| The Hiccupotamus | (2005) | |
| Chuckling Ducklings and Baby Animal Friends | (2011) | |
| The Chimpansneeze | (2012) | |
| I Love Ewe: An Ode to Animal Moms | (2013) | |
| Hug a Bull: An Ode to Animal Dads | (2013) | |
| Monsters Go Night-Night | (2016) | |
| Porcupine Valentine | (2016) | |
| Little Iffy Learns to Fly | (2017) | |
If You Like Aaron Zenz Books, You'll Love…
Aaron may be best known for writing The Hiccupotamus that tells the really funny and fun story of a hippo "who hiccupped quite-a-lotamus. And every time he got'emus… he'd fall upon his bottomus!" The book is filled with fun lines like that which make for a great read-a-long with children. The hippo's hiccups cause all kinds of trouble in the animal kingdom so a group of his friends, an elephant, a centipede, and a rhinoceros, get together to try and find a cure for Hippo's case of the hiccups.
Monsters Go Night-Night is a fun "going to bed" book for children. The book sees a group of seven friendly monsters going through their nighttime routine that don't match what humans do at all. The monsters brush their teeth just like human kids do, but they don't use a toothbrush. What do they use? That's half the fun of this book, guessing what they do differently. The answers will surprise you.
Order of Books » Authors » Order of Aaron Zenz Books