Order of Adrian Tchaikovsky Books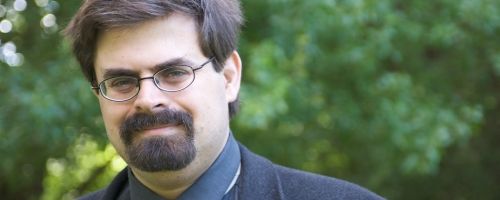 Adrian Tchaikovsky is the pen name of British author Adrian Czajkowski, who writes fantasy and science fiction novels. He writes the Shadows of the Apt series. Adrian studied Zoology and Psychology at the University of Reading, and went onto become a legal executive. While he was the University of Reading, he ran a roleplaying game called Bugworld. It was from this story that Tchaikovsky developed his Shadows of the Apt series. He still uses this method to create his stories, as well as LARPing for his action sequences. Adrian lives in Leeds, England with his wife and son.
Adrian Tchaikovsky debuted as a published novelist in 2008 with the novel Empire in Black and Gold. Below is a list of Adrian Tchaikovsky's books in order of when they were originally released:
Publication Order of Shadows of the Apt Books
Publication Order of Afterblight Chronicles Books
Publication Order of Children of Time Books
Publication Order of Dogs of War Books
Publication Order of Echoes of the Fall Books
Publication Order of Expert System Books
Publication Order of The Final Architecture Books
Publication Order of Tales of the Apt Books
(with Juliet E. McKenna, John Gwynne, Frances Hardinge)
Publication Order of After The War Books
(with Justina Robson)
Publication Order of Made Things Books
Publication Order of Imaginings Books
Publication Order of Standalone Novels
Publication Order of Short Story Collections
Publication Order of Anthologies
Notes: Dark Currents also has stories by Nina Allan, Aliette de Bodard, Una McCormack, Sophia McDougall, Adam Nevill, Rod Rees, Tricia Sullivan and Lavie Tidhar. Hauntings also includes stories by Paul Kane, Tanith Lee, Alison Littlewood, Mark Morris, Marie O'Regan, Robert Shearman and Liz Williams. Looking Landwards also has stories by J.E. Bryant, Storm Constantine, Kim Lakin-Smith, Den Patrick, Steven Pirie and Jetse de Vries. The Girl at the End of the World, Book 2 also has stories from Kim Bannerman, Alec McQuay and Cheryl Morgan. The Private Life of Elder Things also includes stories by Adam Gauntlett and Keris McDonald. Reading Between the Lines is co-authored with Janine Ashbless.
If You Like Adrian Tchaikovsky Books, You'll Love…
Adrian Tchaikovsky Synopsis: Guns of the Dawn is a standalone title by Adrian Tchaikovsky. Denland and Lascanne have been allies for generations, but now the Denlanders have assassinated their king, overthrown the monarchy and marched on their northern neighbour. At the border, the war rages; Lascanne's brave redcoats against the revolutionaries of Denland. Emily Marshwic has watched the war take her brother-in-law and now her young brother. Then comes the call for more soldiers, to a land already drained of husbands, fathers and sons. Every household must give up one woman to the army and Emily has no other choice but to join the ranks of young women marching to the front. In the midst of warfare, with just enough training to hold a musket, Emily comes face to face with the reality: the senseless slaughter; the weary cynicism of the Survivor's Club; the swamp's own natives hiding from the conflict. As the war intensifies, and Emily begins to have doubts about the justice of Lascanne's cause, she finds herself in a position where her choices will make or break both her own future and that of her nation.
Order of Books » Authors » Order of Adrian Tchaikovsky Books