Order of Alex Kershaw Books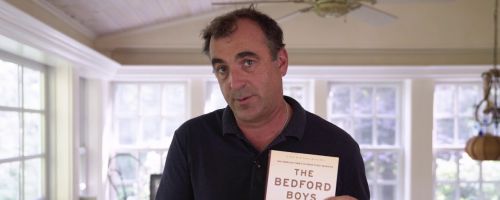 Alex Kershaw is an American author and former history teacher who writes non-fiction books focusing on the World War II era. He also worked as a journalist for several British newspapers including The Sunday Times and The Guardian.
Kershaw had great success as a journalist, but his true passion struck while writing a 2002 biography of war photographer Robert Capa, Blood and Champagne. He came across the story of the sacrifice made by Bedford, Virginia on D-Day which inspired him to write The Bedford Boys. That book became a New York Times bestseller and led to numerous World War II follows including The Longest Winter and Escape from the Deep.
Publication Order of Non-Fiction Books
| | | |
| --- | --- | --- |
| Jack London | (1997) | |
| The Longest Winter: The Battle of the Bulge and the Epic Story of World War II's Most Decorated Platoon | (2004) | |
| The Bedford Boys: One American Town's Ultimate D-day Sacrifice | (2004) | |
| Blood and Champagne: The Life And Times Of Robert Capa | (2004) | |
| The Few | (2006) | |
| Escape from the Deep | (2008) | |
| The Envoy / To Save a People | (2009) | |
| The Liberator: One World War II Soldier's 500-Day Odyssey from the Beaches of Sicily to the Gates of Dachau | (2012) | |
| Avenue of Spies: A True Story of Terror, Espionage, and One American Family's Heroic Resistance in Nazi-Occupied Paris | (2015) | |
| The General: William Levine, Citizen Soldier and Liberator | (2017) | |
| The First Wave: The D-Day Warriors Who Led the Way to Victory in World War II | (2019) | |
| Against All Odds: A True Story of Ultimate Courage and Survival in World War II | (2022) | |
If You Like Alex Kershaw Books, You'll Love…
On June 6th, 1944, a day that will live in infamy to many families as it became to be known as D-Day, one town was hit harder than many others. Nineteen young soldiers from Bedford, Virginia, a city of just three thousand people, died in the first bloody minutes of the battle. Later on, another three men from the town died and in total 22 people from Bedford were lost in the fight. It is a story that is too true to be fiction and truly heartbreaking, Kershaw tells the story of the men and the families they left behind.
The Longest Winter is another moving World War II tale, the epic story of an outnumbered platoon that was able to overcome Germany's attack in the Ardennes forest. The battle prevented Hitler's tanks from overtaking some positions that could've swung the war. Just 18 men were in the path of Hitler's offensive and they had orders to hold their position at all costs, which is exactly what they did. Kershaw is able to bring these heroes to life and tell their story to a broad audience.
Order of Books » Authors » Order of Alex Kershaw Books