Order of Alexandra Moody Books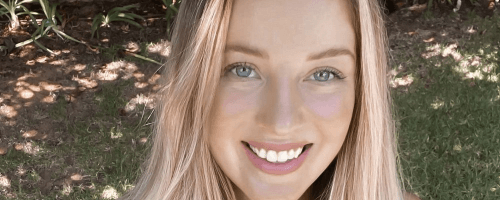 Alexandra Moody is an Australian author of YA romance novels. She enjoys reading and spending time with her family when she isn't writing. She has a love/hate relationship with the gym, is addicted to caffeine, and enjoys traveling. Alexandra lives in Adelaide with her husband, son, and their dog.
Alexandra Moody made her debut as a novelist in 2014 with the novel Tainted. Below is a list of Alexandra Moody's books in order of when they were originally published:
Publication Order of The ARC Books
Publication Order of Christmas Magic Books
Publication Order of The Liftsal Guardians Books
Publication Order of Weybridge Academy Books
Publication Order of The Wrong Match Books
Publication Order of Standalone Novels
If You Like Alexandra Moody Books, You'll Love…
Alexandra Moody Synopses: I Hate You More is a standalone novel by Alexandra Moody. Everyone's heard the expression "keep your friends close and your enemies closer." When the hottest guy at Fairview High and Ally Lockwood's sworn enemy moves in with her family for her senior year, Ally Lockwood must do exactly that.
The majority of women would give anything to live across the hall from Chase Williams, but Ally is not deceived by his intimidating charm or attractive looks. She has been on his bad side for years and is well aware of how sneaky and manipulative he really is. She wants to get rid of him badly. Thanks to her friends, Ally's overprotective father won't be able to keep Chase in the house forever.
She only needs to persuade him to date her and ensure that they are caught…
Stuck with You by Alexandra Moody is a standalone novel. What could possibly go wrong when Clary is locked up with the one man she doesn't like? Clary's senior year has been ruined. School has been canceled all over the world due to a pandemic, and everyone is on lockdown. To top it all off, there is no way for her parents to return to her home country. Clary finds out that she is being placed in lockdown with Aiden Moore, the most irritating guy on the planet and the notorious heartbreaker from Harvard High, just when she thinks things can't get any worse for her. Despite Aiden's beauty, he is completely arrogant and constantly tries to get under Clary's skin. A dream come true for the majority of girls would be to quarantine with Aiden. It's a total nightmare for Clary. However, Clary may find it more difficult than she anticipated to resist Aiden's devilish charms because they are about to become lockdown buddies regardless of whether she likes it or not.
The Liftsal Guardians by Alexandra Moody is the first book in the series of the same name. Sloane is a deadly fighter at a mere 18 years old. However, she is about to meet her match, and he isn't exactly human. Sloane thought she could solve any problem with a sword until she was kidnapped and taken to a strange world covered in snow through a shimmering rift. She finds herself in a frozen land that is guarded by an enigmatic race of warriors and is beset by evil, ancient creatures that lurk in the shadows. She wants to fight for her freedom, but her skills with a sword won't help her get away from the distant, cold prince who is holding her prisoner. The only thing she can do is win his trust. The issue is that he will not let her go because he is just as obstinate as she is. Will she be able to flee? Or will she discover an excuse to remain?
Order of Books » Authors » Order of Alexandra Moody Books