Order of Amanda Bouchet Books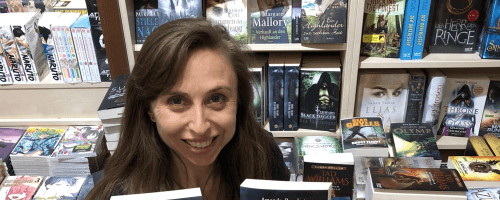 Amanda Bouchet is an American author of fantasy/romance and paranormal romance novels. She writes the Kingmaker Chronicles series and the Endeavor Trilogy series. Amanda grew up in New England, exploring the woods and making up stories. Eventually, she decided to put them to paper. Amanda has a Master's degree in French, and is also a former English teacher. She lives in Paris, France with her two children.
Amanda Bouchet made her debut as an author in 2016 with A Promise of Fire, which began her Kingmaker Chronicles series. Below is a list of Amanda Bouchet's books in order of when they were originally released:
Publication Order of Kingmaker Chronicles Books
Publication Order of Endeavor Books
Publication Order of Short Stories/Novellas
Publication Order of Anthologies
If You Like Amanda Bouchet Books, You'll Love…
Amanda Bouchet Synopses: A Promise of Fire is the first Kingmaker Chronicles novel by Amanda Bouchet. Cat Fisa is not who she says she is. She lives happily in a traveling circus as a soothsayer, avoiding the fate the Gods and her dangerous family have saddled her with. She believes that the magic humming in her blood can live and die with her. She won't be part of anyone's game.
But when she meets an ambitious warlord from the magic-deprived south, this illusion of safety she had goes out the window.
Griffin wants Cat to be a potent weapon for his newly conquered realm because he knows she is the Kingmaker – the woman who discovers truth through lies. It's easy to kidnap her from the street, but it's hard to keep the fierce beauty by his side. He is left wanting more as Cat fights him at every opportunity with the ferocity of spirit that burns bright. But can he ever hope to show his former captor that he wants her there as his companion, equal, and maybe even Queen one day?
Breath of Fire by Amanda Bouchet is the second book in the Kingmaker Chronicles. Even though Cat Fisa's captor-turned-warlord crowns her with the symbols of the three realms, the conflict is far from over. She is convinced of the goals Griffin is attempting to achieve. When the realms unite, she believes, peace will finally prevail. She also has the belief that Griffin, with her by his side, possesses the power to alter the world.
However, if Cat and Griffin are to prevent a full-scale war and unify the land without it, they will need to act quickly as her dangerous past comes back to light and the neighboring royals are out for blood.
They will cross the perilous Ice Plains or participate in the deadly Agon Games to gain access to the royal court – and the very family they intend to usurp – in order to prevent innocent bloodshed. In the center of their future kingdom, Cat and Griffin will either be standing side by side or not at all when their desperate struggle for survival comes to an end.
Nightchaser by Amanda Bouchet is the first book in the Endeavor series. Captain Tess Bailey and her motley crew are on the run from a tyrant who will kill or kill them. Shade Ganavan, a tall, dark, and all-too-appealing stranger, is her only hope. The attractive con artist claims to be able to assist, but his motives are murky…
Their attraction is undeniable, but as the dreaded Dark Watch draws near, Tess and Shade's lack of knowledge of one another could result in their deaths – unless they can put aside their differences and learn to trust one another before it is too late.
Order of Books » Authors »