Order of Andrew Rowe Books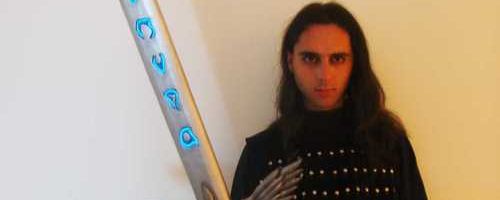 Andrew Rowe is a professional game designer and author. In his career as a game designer he has worked at companies like Blizzard Entertainment, Cryptic Studios, and Obsidian Entertainment. As an author, he is best known as the author of the Arcane Ascension series and the Weapons and Wielders series.
In addition to his work as an author and game designer, Rowe also writes for pen and paper role-playing games. For fun, he runs Shades of Venaya, a swords and sorcery themed live-action role-playing game. When he's not working or doing that, Andrew finds time to read fantasy book, play role-playing games, and watch anime.
Publication Order of Arcane Ascension Books
| | | |
| --- | --- | --- |
| Sufficiently Advanced Magic | (2017) | |
| On the Shoulders of Titans | (2018) | |
| The Torch That Ignites the Stars | (2020) | |
| The Silence of Unworthy Gods | (2022) | |
Publication Order of The Lost Edge Books
Publication Order of Shattered Legacy Books
(with Kayleigh Nicol)
Publication Order of The War of Broken Mirrors Books
Publication Order of Weapons and Wielders Books
Publication Order of Standalone Novels
Publication Order of Anthologies
If You Like Andrew Rowe Books, You'll Love…
Six Sacred Swords is the first book in the Weapons and Wielders series. Keras Selyrian is a swordsman who is on his way to becoming a legend. His sword has unfathomable power, but it is damaged and leaking mana so he's looking for a new one. Or six. The Six Sacred Swords are Kaldwyn's most famous artifacts, they were forged to defeat the god beasts and each sword would need to be earned by a worthy champion. No champion has ever earned them all, but that won't stop Keras from trying.
Rowe is also the author of the Arcane Ascension series that begins with Sufficiently Advanced Magic. Corin lost his brother to the Serpent Spire five years ago and now it is his time to enter. The Spire is a tower with ever-shifting rooms, traps, and monsters; and anyone who returns from there earns a mark granting the bearer magical powers. The legend states that those who reach the top of the tower will be granted a boon by the spire's goddess. Corin has made it his mission to reach the top and meet the goddess.
Order of Books » Authors »