Order of Angel Lawson Books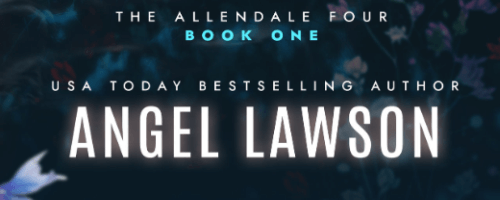 Angel Lawson is an American author of adult and YA romance and thriller novels. She writes the Creature of Habit, Death Fields, Raven Queen's Harem, Royals of Forsyth University (with Samantha Rue), Wayward Sons, and several other series. She is a USA Today bestselling author. Angel has always been interested in creating fiction out of real life, whether it be with paint or the written word. She lives in Atlanta, Georgia with her family.
Angel Lawson made her debut as a novelist in 2012 with the novel Wraith. She also had two other books come out that year. Below is a list of Angel Lawson's books in order of when they were first released:
Publication Order of Academy of Immortals Books
Publication Order of Allendale Four Books
Publication Order of The Boys of Ocean Beach Books
Publication Order of Boys of Preston Prep Books
(with Samantha Rue)
Publication Order of Creature of Habit Books
Publication Order of The Cult of Serendee Books
Publication Order of Death Fields Books
Publication Order of Family Confessions Books
(with AK Rose)
Publication Order of Kingdom of Fae Books
Publication Order of Planet Athion: Pioneers Books
Publication Order of The Raven Queen's Harem Books
Publication Order of The Royals of Forsyth University Books
(with Samantha Rue)
Publication Order of Sparrowood Academy Books
Publication Order of The Supers of Project 12 Books
Publication Order of Thistle Cove Books
Publication Order of Trials of the Gods Books
Publication Order of Wayward Sons Books
Publication Order of Wraith Books
Publication Order of Standalone Novels
Publication Order of Short Stories/Novellas
Publication Order of Anthologies
If You Like Angel Lawson Books, You'll Love…
Angel Lawson Synopses: Zocopalypse is a standalone novel by Angel Lawson. When Alexandra saw her scientist father for the last time, he advised her to wait two weeks for his return. She and her mother must locate her sister in one of the quarantined states, more than 300 miles away, if he does not respond. Healthy people are being transformed into enraged, cannibalistic versions of themselves by a virus. Alex participated in Dr. Ramsey's trials during his months-long investigation of the E-TR virus. He gives Alexandra what could be the most important information ever discovered before he leaves. information that a number of powerful organizations would go to great lengths to acquire. Despite the fact that she made a promise to her father, Alexandra is no match for this world, where men and women both desire the taste of flesh and where the weak are a liability. One that she intends to keep, regardless of how many people die in the process.
Vigilant is a standalone title by Angel Lawson. Ari Grant helps troubled Glory City youth during the day and tries to feel something other than the cold numbness that has settled in her bones at night. She has been satisfying this desire for years by going to the tattoo parlor or late-night clubs, but when she is the victim of an armed robbery, everything changes. She is only saved by Glory City's own Vigilante from the gunman, a former client, who notices her escape. a man with a hood who always helps those in need at the right time. It would appear that Ari is not the only one trying to find a life outside of work or saving lost souls. Nick Sanders, a handsome juvenile court attorney, has noticed her. He seems like the perfect fit—solid and steady—but Ari has become obsessed with Davis, the mysterious and sexy director of a local fight club that helps boys who have been in trouble. Each of these men fights for those in need, but not all of them do so out of charity. She is unable to determine who to trust when Ari's female clients begin to vanish. Soon enough, it becomes clear that while Ari is looking out for the children of Glory City, someone else has taken over her role as her guardian.
The Girl Who Shot First is the first book in Angel Lawson's The Death Fields series. Not all girls are born heroes. There wasn't a choice for Alexandra. One girl unknowingly holds the key to saving humanity at a time when the nation is on the verge of extinction. Although Alexandra believes she is just another survivor, her scientist father's role in the virus's transformation of living things into ferocious monsters inspires her to become much more. Can she make it through the road ahead? Can she cope with the truth about who created the virus and why it was created?
Order of Books » Authors » Order of Angel Lawson Books