Order of Beth O'Leary Books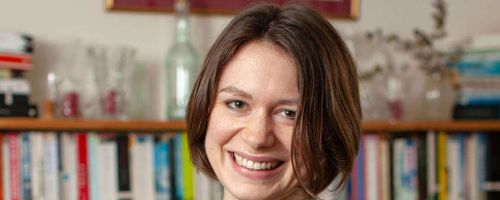 Beth O'Leary is an author of romantic comedy novels. She is an international bestselling author. When she's not writing at her desk in the Hampshire countryside of England next to her golden retriever, she enjoys reading while drinking tea with a woolly sweater on.
Beth O'Leary made her debut as a novelist in 2019 with the novel The Flatshare. She wrote it while she was commuting on the train to her job at a children's publisher. Her next novel was The Switch, which was optioned by Steven Spielberg's Amblin Partners. Below is a list of Beth O'Leary's books in order of when they were originally published:
Publication Order of Standalone Novels
If You Like Beth O'Leary Books, You'll Love…
Beth O'Leary Synopses: The Flatshare is a standalone romantic comedy by Beth O'Leary. Tiffy and Leon share an apartment, but they have never met. Following a bad breakup, Tiffy Moore needs a place to live. Now. And she needs it cheap. But the apartments she can afford have her wondering if astonishingly colored mold on the walls counts as art.
Desperation makes her decide to try something different, so she responds to an ad for a flatshare. Leon, a night shift worker, will take the apartment during the day, and Tiffy can have it nights and weekends. He'll only ever be there when she's at the office. In fact, they'll never even have to meet.
Tiffy and Leon begin communicating via notes – first about what day is garbage day, and politely establishing what leftovers are up for grabs, and the ever-important question of the position of the toilet seat. Even though they are opposites, they soon become friends. And then maybe more.
But falling in love with your roommate is probably a terrible idea… especially if you've never met.
The Switch by Beth O'Leary is a standalone title. When overachiever Leena Cotton is forced to take a two-month sabbatical after blowing a big work presentation, she flees to her grandmother Eileen's house for some much-needed rest.
Eileen is newly single and about to turn eighty. She'd like a second chance at love, but her tiny Yorkshire village doesn't offer too many options. So they decide to try a two-month swap.
Eileen will live in London and look for a suitor. She'll take Leena's flat, and learn all about casual dating, swiping right, and city neighbours. Meanwhile, Leena will look after everything in rural Yorkshire: Eileen's sweet cottage and garden, her idyllic, quiet village, and her little neighbourhood projects.
But stepping into one another's shoes proves more difficult than either of them had anticipated. Will swapping lives help Eileen and Leena find themselves… and maybe even find true love? It's never too late to change everything… or to find yourself.
The Road Trip by Beth O'Leary is a standalone novel. Four years ago, Dylan and Addie fell in love under the Provence sun. Wealthy Oxford student Dylan was staying at his friend Cherry's enormous French villa; wild child Addie was spending her summer as the on-site caretaker. Two years ago, their relationship officially ended. They haven't said a word to eachother since.
Today, Dylan and Addie cross paths again. It's the day before Cherry's wedding, and Addie and Dylan crash cars on their way there. The car Dylan was driving is wrecked, and the wedding is in rural Scotland, which he'll never reach on time by public transport.
So, along with Dylan's best friend, Addie's sister, and a random guy on Facebook who needed a ride, they squeeze into a space-challenged Mini and set off across Britain. Cramped into the same space, Dylan and Addie are forced to confront the choices they made that tore them apart – and ask themselves whether that final decision was the right one after all.
Order of Books » Authors » Order of Beth O'Leary Books