Order of Blair Howard Books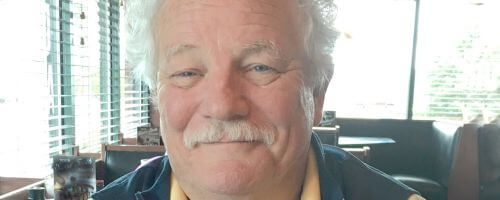 Blair Howard is an author of mystery and historical fiction novels. He writes the Harry Starke series. Prior to writing mystery novels, he wrote historical fiction, but switched over to mystery due to the research workload. Blair has written for such publications as Delta's Sky Magazine, PHOTOgraphic magazine, The Mail on Sunday, The Boston Herald, The Detroit Free-Press, The Anchorage Times, and more.
Blair Howard made his debut as a novelist in 2014 with the novel The Mule Soldiers. Below is a list of Blair Howard's books in order of when they were originally released:
Publication Order of O'Sullivan Chronicles Books
Publication Order of Chickamauga Books
Publication Order of Harry Starke Books
Publication Order of Harry Starke Genesis Books
Publication Order of Lt. Kate Gazzara Books
Publication Order of The Peacemaker Books
Publication Order of Sovereign Stars Books
If You Like Blair Howard Books, You'll Love…
Blair Howard Synopses: Jasmine is the first Lt. Kate Gazzara novel by Blair Howard. The body was discovered on a late Friday evening. The girl had been inside the concrete pipe for over a week. During the day, temperatures were hitting 120 degrees. The stench that drew the kids to her. Who was she? Who put her there? Who killed her? It's Kate Gazzara's first case, a mind-bending riddle, and as if that wasn't enough, she has a new partner to cope with.
Chickamauga by Blair Howard is the story of a great battle of the Civil War and the people who fought it, many of them real and some of them fictionalized. Though the words they speak are but shadows moving on a tapestry of heroism and selflessness, their deeds are etched forever on the fields and forests at Chickamauga, the River of Death. It is the story of the generals who planned the grand strategies that would be played out by lesser but braver men, and it's the story of heroism, desperate deeds, and death and destruction on a scale the like of which had never been seen before. It tells the story of Jesse Dixon and Patrick McCann, two boys in blue uniforms who must grow up before their time, and of Billy Cobb, a Confederate soldier who found himself at war, not only with the Union enemy, but also with his conscience. And it's the story of Sarah Bradley, the daughter of a southern farmer, and Blake Winter a Yankee colonel who fell in love with her. Chickamauga is the story of ordinary people in extraordinary times.
Order of Books » Authors » Order of Blair Howard Books