Order of Blake Banner Books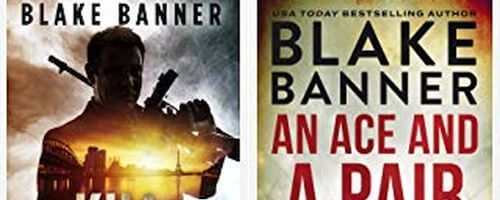 Blake Banner is the creator and author of both the Omega series and the Dead Cold Mystery series. Banner's books have appeared on the USA Today Bestsellers' List as well as the top of the Amazon book charts. Not much in known about their personal life, but they continue to publish books at an impressive rate and those books are highly rated by fans.
The series are quite different as Dead Cold is more of a cop book while Omega is about an elite special forces agent. The book do share one common trait though, they are both page turners that grip the reader from the first page and don't let up until the last.
Publication Order of Dead Cold Mysteries Books
Publication Order of Omega Books
Publication Order of Alex Mason Books
(with David Archer)
Publication Order of Cobra / Harry Bauer Thriller Books
Publication Order of Verdugo Books
If You Like Blake Banner Books, You'll Love…
Blake Banner Synopsis: The Dead Cold Mystery starts off with the book An Ace and a Pair. The book introduces us to Detecitve John Stone, an aging detective on his way out, and Detective Carmen Dehan who has such a bad attitude that nobody wants to work with her. The captain decides to put these two together on a cold case, but the two set out to prove that they are still great detectives as they turn their cold case red hot.
The first book in the Omega series is Dawn of the Hunter. This book introduces us to Lacklan Walker, ten years in the British SAS and a real tough dude. He was born to a billionaire father, but he rejected that life and went to the service instead. He left everything behind, even his childhood sweetheart Marni. Years later, after leaving all of that behind, his father calls him to tell him that Marni has gone missing. He also has a secret to tell his son, the truth about Omega. The revelation will change everything as the search for Marni is on.
Order of Books » Authors »