Order of Brad Smith Books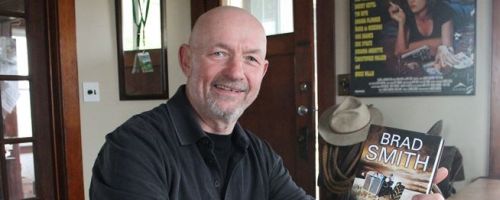 Brad Smith is a Canadian author of thriller and mystery novels. Born and raised in Southern Ontario, Brad Smith has worked a number of jobs, including as a farmer, signalman, insulator, truck driver, bartender, teacher, maintenance mechanic, roofer, and carpenter. When he's not writing, Brad loves to fish, golf, and restore old cars. He lives in a near-century-old farmhouse on the shore of Lake Erie.
Brad Smith made his debut as a novelist in 2000 with One-Eyed Jacks. The novel was shortlisted for the Arthur Ellis and Dashiell Hammett awards. Below is a list of Brad Smith's books in order of when they were originally released:
Publication Order of Carl Burns Books
Publication Order of Virgil Cain Mysteries Books
Publication Order of Standalone Novels
| | | |
| --- | --- | --- |
| One-Eyed Jacks | (2000) | |
| All Hat | (2003) | |
| Busted Flush | (2005) | |
| Big Man Coming Down the Road | (2007) | |
| The Return of Kid Cooper | (2018) | |
| The Goliath Run | (2020) | |
| Cactus Jack | (2020) | |
| Copperhead Road | (2022) | |
If You Like Brad Smith Books, You'll Love…
Brad Smith Synopses: In Rough Justice by Brad Smith, following ten years' absence and a spell in prison, Carl Burns has come back to his hometown of Rose City to offer support to his estranged daughter Kate, currently one of four witnesses testifying against former Mayor Joseph Sanderson III, who stands accused of multiple counts of raping minors.
Carl is determined to get justice for Kate, no matter what. But with his former sister-in-law Frances his lone ally, he finds himself incurring the wrath of powerful enemies as he attempts to uncover the shocking truth beneath the layers of corruption and lies which take over the town.
Red Means Run is the first Virgil Cain novel by Brad Smith. When top lawyer Mickey Dupree gets a legendary record producer off a murder charge, the victim's husband, Virgil Cain, is overheard telling a packed bar that "someone ought to blow Mickey's head off."
So when Mickey turns up dead on a golf course, Virgil naturally finds himself the number one suspect. After being thrown into jail by dim-witted detective Joe Brady, he realises the police have no interest in actually finding the truth. In a desperate situation and with only detective Claire Marchand on his side, Virgil realises he must prove his innocence by finding the real killer himself – unless the killer gets to him first.
One-Eyed Jacks is a standalone novel by Brad Smith. 35-year-old Tommy Cochrane is a washed-up boxer who missed out on a shot at the heavyweight title and has to retire when he's diagnosed with an aneurysm. His best friend and former sparring partner, T-Bone Pike, isn't in great shape either as the two of them take off for Toronto in order to get the $5,000 Tommy desperately needs to buy back his grandfather's farm.
In the big city, Tommy and T-Bone encounter an intriguing cast of characters operating in seedy deals. Fat Ollie runs the weekly poker game on Queen Street; Buzz Murdoch gives Tommy a job as a doorman at the Bamboo club; Herm Bell is a sharp kid on a run of luck; and Tony Broad is a small-time hood with big-time ambitions and a seedy sidekick named Billy Callahan. There's also Lee Charles, a sharp, cynical, smart-mouthed torch singer, who is also Tommy's ex-girlfriend.
Order of Books » Authors » Order of Brad Smith Books