Order of Carol Goodman Books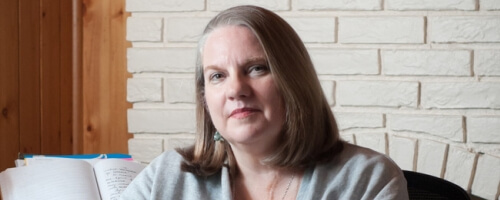 Carol Goodman is an American author who debuted with her first published novel, the bestselling and critically acclaimed, The Lake of Dead Languages. That started a great writing career for Goodman who wrote many more books over the years. Her writing got her nominated for the MPAC award twice as well as the Simon & Schuster/Mary Higgins Clark Award. She would later win the Hammett Prize for Literary Excellence in Crime Writing for her second novel, The Seduction of Water.
Goodman also writes under the pen name of Juliet Dark and published her novel, The Demon Lover under that name. Goodman lives and writes in the Hudson Valley with her family. She also teaches writing and literature at The New School and SUNY New Paltz.
Publication Order of Black Swan Rising Books
(as Lee Carroll)
Publication Order of Blythewood Books
Publication Order of Fairwick Trilogy / Fairwick Chronicles Books
(as Juliet Dark)
Publication Order of Standalone Novels
If You Like Carol Goodman Books, You'll Love…
Goodman's debut was The Lake of Dead Languages. The story begins twenty years ago when Jane Hudson left the Heart Lake School for Girls in the Adirondacks after a terrible tragedy. Three lives were taken due to suicide and Jane was left behind to carry the burden. Two decades later, Jane returns to the school as a teacher where she hopes to make a fresh start in life with her young daughter. It's not long after that ominous messages from the past dredge up old memories. While young girls are beginning to die again at the school. The truth is coming to the surface, but is Jane ready for it?
Another great book by Goodman is The Sea of Lost Girls. This book focuses on Tess who has worked hard to her past buried. She's a teacher at an elite boarding school and married to a respected professor who also teaches there. They have a seventeen-year-old son named Rudy who is thriving as the lead in teh school play. Tes tries not to think about the past until one she gets a text message late one night/one early morning. The text is from her son and he needs her help. Tess picks him up and he's drenched, covered in a dark stain. The next morning, his school's headmistress calls to tell her that Rudy's girlfriend Lila has been found dead at the beach. Tess sees the investigation focusing on her son as well as her husband, finding her family attacked on all sides. The school seems to have a lot of secrets and the more Tess learns about them, the more she realizes that some skeletons were meant to come out of their closets.
Order of Books » Authors » Order of Carol Goodman Books