Order of Catherine Cowles Books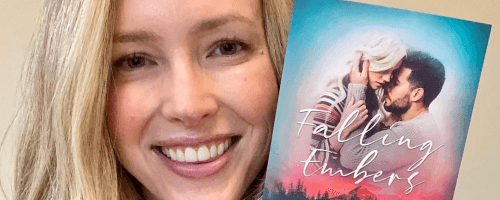 Catherine Cowles is an American author of contemporary romance novels. She writes the Sutter Lake, Tattered & Torn, and Wrecked series. Once Catherine has been a lifelong reader, and finally decided to start writing her own stories. When she's not writing her next novel, she enjoys exploring her home state of Oregon, listening to true crime podcasts, searching for her next book boyfriend, and drinking Diet Coke.
Catherine Cowles made her debut as a novelist in 2018 with the standalone title Further to Fall. Below is a list of Catherine Cowles' books in order of when they were originally released:
Publication Order of Lost & Found Books
Publication Order of Sutter Lake Books
Publication Order of Tattered & Torn Books
Publication Order of Wrecked Books
Publication Order of Standalone Novels
If You Like Catherine Cowles Books, You'll Love…
Catherine Cowles Synopses: Further to Fall is a standalone novel by Catherine Cowles. A fast-rising MMA fighter up against the world. An innocent teacher trying to do what she can to make the world better. He never anticipated she'd be his new best friend. But she fought her way into his life, one tongue-lashing after another. Until one night, one mistake tore them apart. Losing her… that gutted him. But now, as one of the top fighters in the world, he's back and determined to battle for his girl. But, from the sidelines, someone watches. Someone who'll do just about anything to keep them apart. Their second chance might be over before it even begins…
Beautifully Broken Pieces by Catherine Cowles is the first book in her Sutter Lake series. Taylor is looking for peace and quiet away from the memories of all she's lost. A little town in the mountains where no one knows her seems like just what she needs. Walker loves his life just as it is. His town, his family, his brothers in the department. Everything simple and easy – until a chance encounter changes it all. When Taylor's peaceful life is interrupted by the rugged cop, they find that the very thing they were avoiding might be just what they both need. As their iron wills clash and passion flares… a killer lurks. And you never know who might be caught in the crosshairs.
Tattered Stars is the first book in the Tattered & Torn series by Catherine Cowles. One night changed them both forever. Their lives ruined and beyond repair.
Now, Everly has a chance to fix things. To bring healing to the place where everything fell apart. But it means facing the family her father almost destroyed, and the boy with the dark eyes – now a man – who still takes residence in her dreams.
Just one breath away from having your life ripped away.
The last thing Hayes wants is another reminder of all the ways he failed sixteen years ago. When Everly drives back into Wolf Gap, his only mission is to get her to leave. For his family's sake, and for his own, those demons must never be unearthed.
But everything about this woman is a surprise, from her spine of steel to the sanctuary she hopes to create with the land her mother left behind. And regardless of how much he wants to, Hayes cannot stay away.
As a careful friendship sparks into something more, someone watches. And they'll do anything to tear it all apart…
Order of Books » Authors »